Year in Review & What's Coming in 2018
Several years ago I had a dream to create a website and community for returnees.
An online "home" (haha!) that would help returnees deeply reflect on what they learned abroad, how living abroad had changed them, and what they want their life to be like going forward.
A place where returnees would rest, reflect, and refuel until they felt ready to spread their global wings again and relaunch themselves into their next adventure at home or abroad.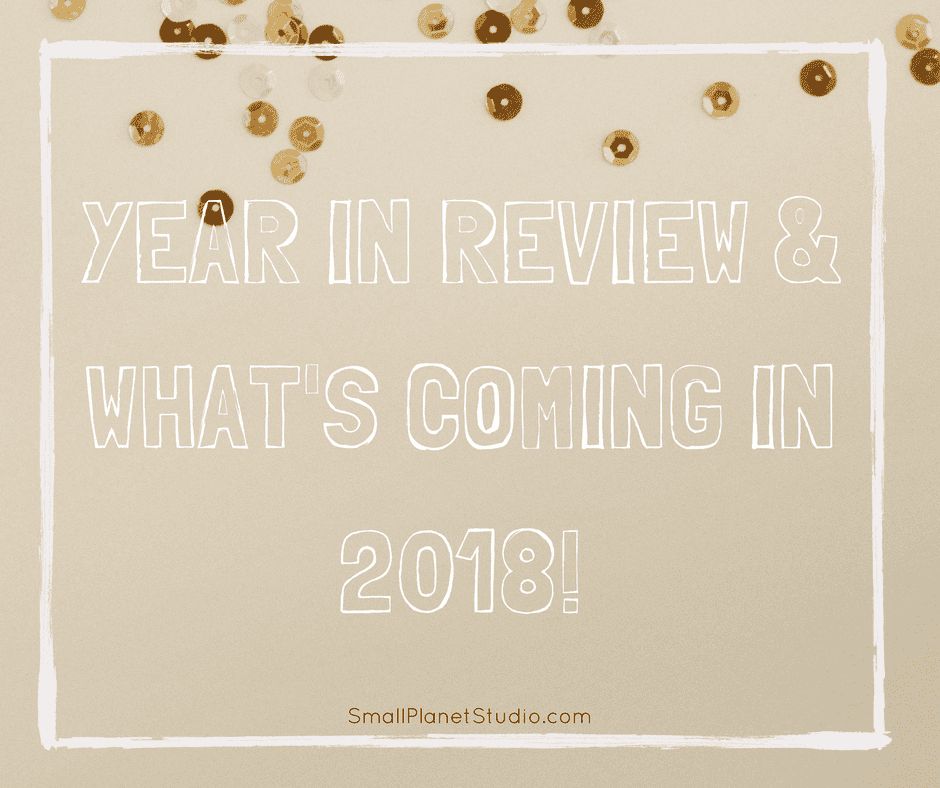 When I first started out, my vision was big yet fuzzy.
I could feel what I wanted to create (I'm so an INFP) but I often struggled to articulate my vision.
I wanted to get to the root of our re-entry challenges, and then turn re-entry (repatriation) into an overwhelmingly positive, growth-focused experience that returnees would actually want to embrace and would significantly benefit from.
I knew it would take time to get there because that's not how most returnees currently view the re-entry/repatriation experience! 🙂
So, at first SPS was a side-hustle.
And I was more than happy to keep it that way while I was researching, creating, experimenting, and testing out new ideas, concepts, and approaches over about 4 years time.
At the same time, it was challenging because every couple months, just when I'd start to gain momentum, I'd have to push SPS to the back burner in order to give my consulting and teaching work (which I loved and which paid the bills) my full-time attention.
I constantly felt like I was taking two steps forward and three steps back because I was being pulled in so many different directions.
While there were many successes and wonderful times, there were also several times when I seriously considered shutting down SPS and just focusing on consulting and teaching.
But every single time I thought about shuttering SPS, someone emailed to tell me how SPS had helped them.
I decided to keep going, trusting that I'd figure things out. And slowly but surely, I did.
One of the things that helped me figure things out as an entrepreneur is the following concept that one of my mentors shared.
When you start out with a new idea, you're excited and can see so much potential. You're super motivated and you can't wait to jump out of bed each morning and work on your big idea. That's the first phase. I love this phase, as most people do.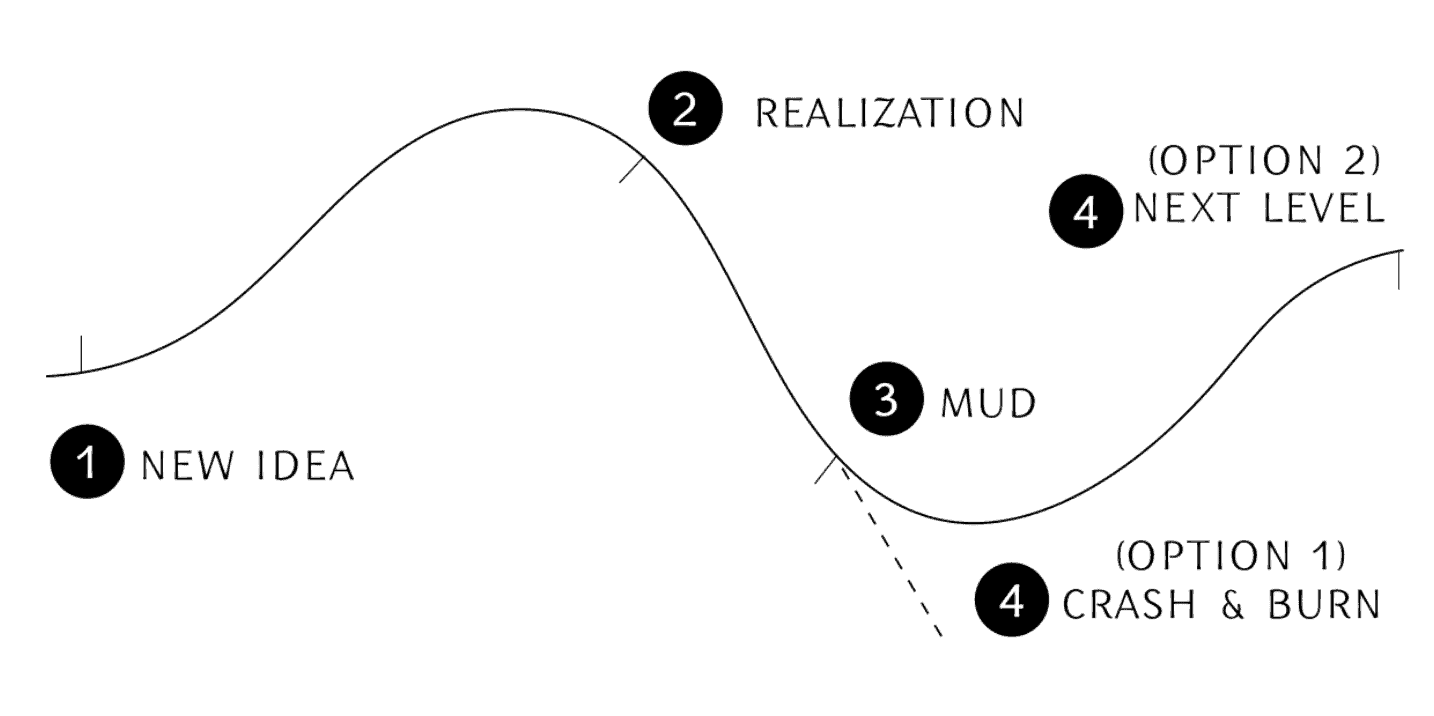 The second phase is when the real work begins.
As you define your plans and take your big idea from idea to reality, you encounter obstacles, everything takes longer than you expect, and your motivation wanes.
Big time.
You struggle.
You procrastinate.
Then, just when you think it can't get any worse, it does.
That's when you know you've hit stage 3: the mud stage.
At this point, moving from idea to reality requires enormous effort.
Nothing is easy.
Little is clear.
You have no enthusiasm left to carry you forward.
Every day feels like a slog through thick, deep mud. You so want to quit and move on to a new idea (and go back to the easier and more fun and exciting stage 1).
The mud stage is where most people quit, give up on their idea, and crash and burn.
But those who keep going through the mud stage – those who see the mud stage as a necessary part of the process of building something new – those people achieve what they set out to achieve.
This was a revelation for me because I realized that in the past I'd interpreted the mud stage as this is getting so hard – it must be because my sucks.
I'd read my waining motivation and the significant challenges I faced in that stage as I am obviously on the wrong path.
And consequently, I crashed and burned and gave up.
Those times I thought about closing down SPS? I realized I was deep, deep, deep in the mud stage.
So, I decided the best thing to do was to jump in and fully immerse myself in the mud.
That's the only way to get through the mud stage!
I wrapped up all of my consulting and teaching projects by the end of 2016 and decided to give my ideas my complete focus in 2017. It has been a liberating, terrifying, frustrating, exciting, and ultimately completely and utterly awesome!!
My Favorite 2017 Highlights
Do you ever write down your highlights from the previous year? I often do, but in my private journal. This year I thought I'd share a few with you, since so many are SPS related!
1. The highlight of January 2017 was the RELAUNCH! Retreat, my week-long virtual summit. I loved connecting with so many returnees in the SPS community!
2. Soon after the RELAUNCH summit, I led another Re-entry Roadmap mastermind group, and then one more in the fall. I really love working with small groups!
3. In the spring I spent time in Germany, the Netherlands, and Belgium. In Germany, I visited Hamburg, the city I lived in as a high school exchange student. The last time I was there well over 20 years ago and it was surreal that everything felt so familiar, even after so many years. Going back to Hamburg kickstarted a year of reconnecting with people, places, and events from 20 years ago – something I hadn't at all expected to happen in 2017 but am so glad it did. In the Netherlands, I presented at the Families in Global Transition conference, and I finally got to see the Dutch tulip fields. In Belgium, I spent a few days in Bruges, a city I'd been wanting to visit since high school.
4. My fabulous colleague, Sarah, and intern Brianna, represented SPS at the NC Re-entry Conference with a booth and two workshops. Thanks so much, Sara and Brianna! It was there that Marissa got involved with SPS and was a big help in 2017!
5. I started writing re-entry articles again – one was even for an academic journal.
6. I started coaching people who are about to move abroad and people who have just recently arrived abroad. So I now coach globetrotters in all phases of global transitions!
7. I traveled with my husband to Washington, DC twice (to see a couple of our favorite bands), Chicago (family), and Bloomington, Indiana (the little college town where we met 20 years ago!), and I also got to spend time with family and friends out in Oregon.
8. In the fall I hosted several webinars for returnees, coaches, and study abroad professionals and share insights, tips, and tools for re-entry.
9. More Re-entry Roadmap workbooks got into the hands of returnees all over the world in 2017! I also launched the Study Abroad Re-entry Toolkit towards the end of the year and was thrilled with the response.
10. One of my favorite weeks of the year was the one I set aside to chat with SPS community members! I'd been able to meet up with a few people from my Re-entry Roadmap mastermind groups in person during my travels, and I wanted to connect with more of you. So, I cleared my plate for an entire week, sent out an invite, and within a couple days had every available space filled. During my week of chats I talked with recent returnees, expat coaches who work with returnees, and study abroad professionals who help their students through re-entry. The conversations were so energizing and reconfirmed my feeling that SPS attracts the most insightful, thoughtful, and amazing globetrotters! I'm thinking about doing another round of chats so I can get to know more of you…
11. In December SPS hosted it's first Holiday Card Exchange, which was so much fun!
If I had to sum up 2017, I'd say it was a year of significant growth, both for SPS and for me personally.
At the beginning of the year I chose meaning as my guiding word for the year. Actually, this might sound cheesy, but I felt like meaning chose me. It popped into my head and it just felt right, so I decided to make that my word for 2017. I decided that I wanted to have meaningful experiences in 2017, no matter where I was or what I was doing.
Then, about it half way through January, I completely forgot about the whole word-for-the-year thing and went about my life….until a few weeks ago when I heard someone mention their word for 2018 and suddenly I remembered my word for 2017…and realized that my entire 2017 was chock FULL of meaning via personal and professional growth, and unexpectedly reconnecting with places, people, and events from my past. I'm not sure I've ever had a year filled so much meaning!
I only choose a word for the year when I really *feel* it. The word that feels right for 2018 is EXPANSION.
What's Coming in 2018
I've got so many plans for SPS this year! Website and workbook updates are coming first, then the How to Live a Global Life Everywhere webinar, and then (drum roll please)…the Global Heart Collective! I've got a group of SPS community members (Re-entry Roadmap masterminders) beta-testing the GHC right now and I'll be sharing the details about what it is and how you can join in soon!