Vete con Pedro: Lori's Global Story (Part 2)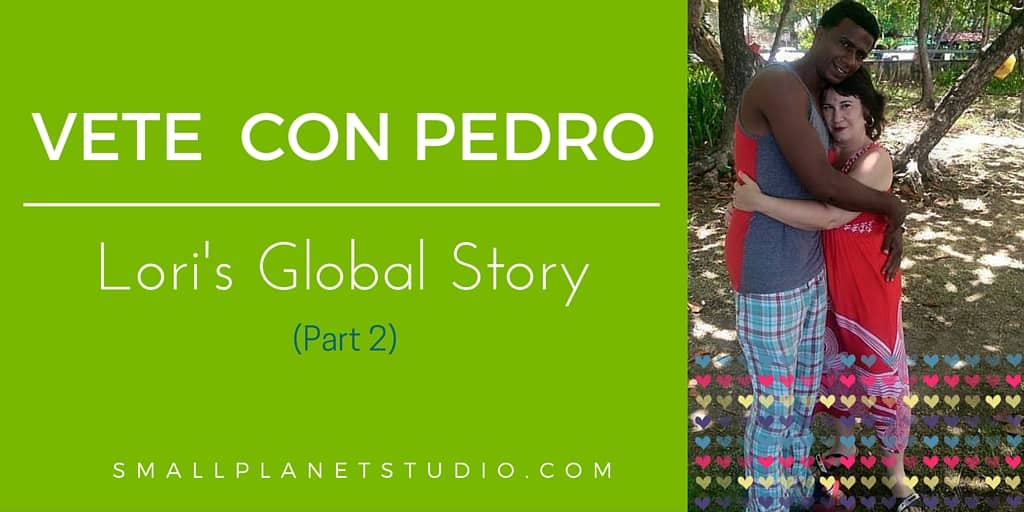 Although she was born and raised in Rochester, New York, Lori Nolasco Martinez is often asked where she is "originally from." She has lived in Paris, France, and traveled to the Middle East as well as the Dominican Republic. In 1995, she earned a Doctoral degree in Comparative Literature from the Sorbonne. Upon her return to her hometown, she acquired Spanish, thus adding to the multicultural mix of French, Italian and Arabic. Currently, she teaches English as a Second Language at the college and is working toward becoming a cross-cultural trainer. She asserts, "Culture rules my life to benefit others." Two of her poetry collections have been published by FootHills, a small, independent press. Lori is also a classically-trained vocalist who sings in several languages, including her beloved Spanish.
Last year, Lori shared her re-entry story on the SPS blog. In today's post, Lori shares what's happened in her global life since then.
I arrived at the International Airport of El Cibao at 6 p.m. but no one was there to meet me. For a split second I thought back to that day at Roissy-Charles de Gaulle airport in Paris nearly 30 years ago, but I put it out of my mind. There must be a logical explanation for this. He must have been delayed in rush hour traffic.
My antiquated cell phone did not work in the Dominican Republic so I asked a uniformed guard if there was a public phone I could use. He directed me to a calling center where I paid a dollar. As I waited for Pedro Manuel to answer, I could not help hearing that robotic voice from my days of youthful indiscretion. Your rich parents will always take care of you. One day you will marry an American.
"Pedro Manuel, where are you? I'm in Santiago!"
"You're where?? You left the airport? Why did you leave?"
"No, you crazy fool! I'm at the airport in Santiago!"
At about 6:30 p.m., Pedro Manuel ran toward me and lifted me off the ground. His two little boys, ages eight and four, and his three-year-old niece followed behind him. Then his sister got out of the rented yipeta (a Spanglish word derived from "Jeep," meaning an SUV) and handed the little girl a bouquet of flowers that was as big as she was. Monica, nicknamed "La Chichí" (the baby) went to give it to me and almost dropped it. Then came the photo session. Everyone must have received the memo to wear blue and green.
On May 27, 1987, I had had to rely on the kindness of strangers. My so-called future husband was nowhere to be found. Two French businessmen in their 50s took pity on the lost-looking girl who sat weeping next to three suitcases full of belongings from the home she thought she would never see again.
On May 29, 2015, I threw myself into the arms of the Dominican firefighter I had met four years before in my hometown. Pedro Manuel Martínez was the son of Colonel Pedro Martínez, the fire chief of Puerto Plata. Father and son, along with a younger colleague named Roberto, had come to Rochester for a three-week training session. I became their volunteer driver and interpreter.
When I first met Pedro Manuel at Rochester's City Hall in the summer of 2011, I was flustered. He introduced himself as "Pedro Junior." I apologized and explained that I had arrived late to the welcoming ceremony because of work. That was the reason my heart was all aflutter and my cheeks were flushed, or so I thought.
At the time, I was still married to Ramón, and all three visitors knew that it was thanks to him that I had acquired native fluency in Spanish and knowledge of Dominican culture. On the day of their departure, Chief Martínez wore a blue suit, matching boina (beret) and shoes that Ramón had given him.
When Ramón passed away from pancreatic cancer on October 13, 2014, Chief Martínez put on the blue suit in honor of him. Pedro Manuel called me the next day, and I could hardly understand him because he was sobbing.
Even when we visited Pedro Manuel and his family as a couple, Ramón always told me, "Vete con Pedro!" (Go with Pedro!) while he stayed behind with "the Colonel," as he was affectionately known. Out of respect for Ramón, Pedro Manuel and I danced merengue and bachata a mile apart and did not dare to come within arm's length of each other as we swam in the sea.
This past summer, we celebrated our engagement during an informal celebration at a beach near his family's home. The spark that had been ignited that summer in Rochester was now a flame that would be fanned into a bonfire. This is the best image to describe our love: more than a hearth, but still contained. What's more, the story of my erreur de jeunesse has been reduced to ashes. I am not running away this time. Pedro Manuel will be integrated into my life in my hometown, where he plans to work for the fire department. We will be married on December 14, 2015.
Congratulations, Lori!