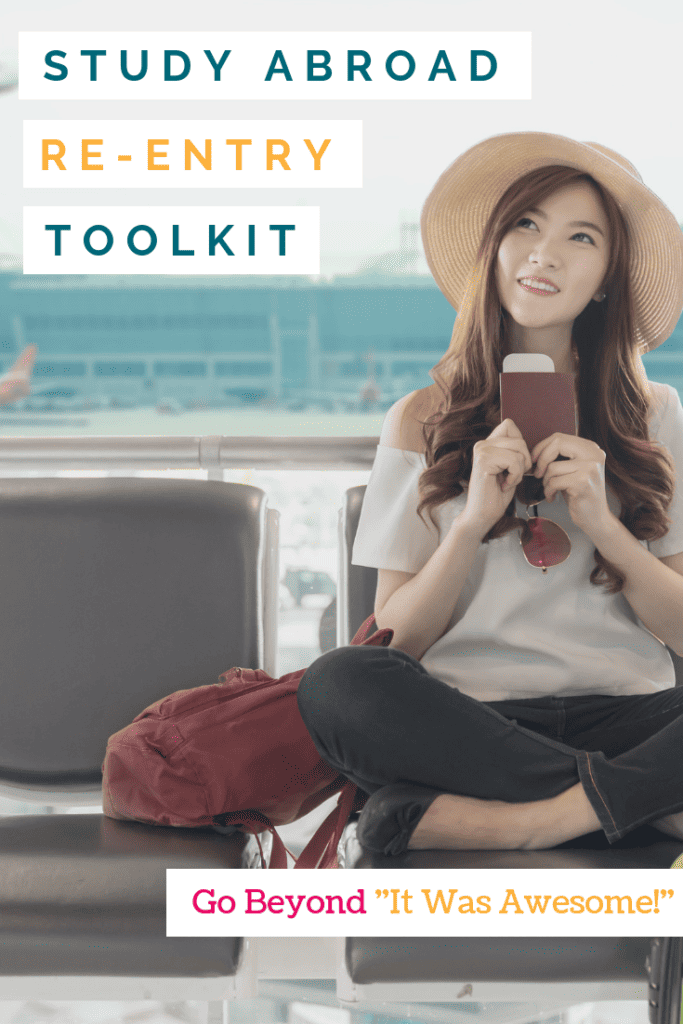 A meaningful, positive approach to re-entry reflection and processing to use with your student returnees?

Activities, videos and other materials you can quickly and easily integrate into your existing re-entry programming or build a new program around?

Updated re-entry vocabulary and an innovative approach that opens students' hearts and minds to the transformative opportunity re-entry offers?

High quality materials that are being used by organizations and institutions all over the North America, Europe, Australia, and beyond?
A way to make your organization stand out in the crowded international education market while supporting students' mental health?

The Study Abroad Re-entry Toolkit is just what you need!
Returning home after studying, interning or working abroad is often THE HARDEST part of a students' international experience. And it's one that most returnees end up muddling through alone. What a missed opportunity for both returnees and educators!
What makes re-entry so challenging for students and educators alike?
Not all returnees experience the same challenges, in the same way or on the same timelines. It's hard to meet all returnees' needs in just one or two workshops a year.
International educators are busy! Who has time to do the necessary research and then create, test, and refine innovative re-entry materials that address emotional, identity and education/career topics?
Most international educators have never had the opportunity to deeply reflect on and process their own re-entry, which makes it so much more difficult to help students do so.
I created the Study Abroad Re-entry Toolkit to meet these needs.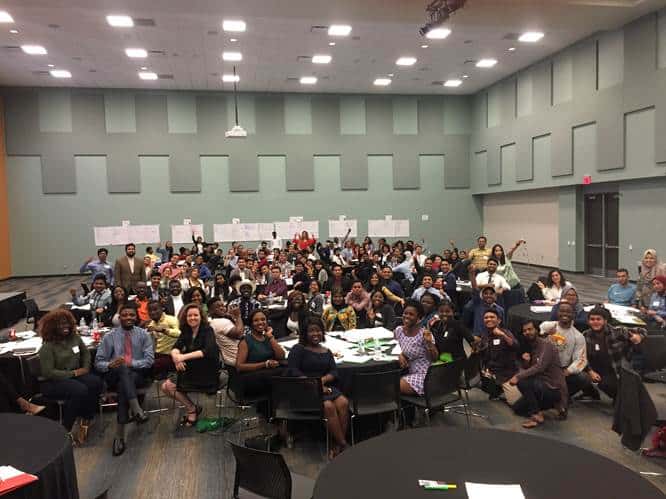 This is the Toolkit I wish I'd had when I was a student returnee and when I was working in study abroad!
This Toolkit enables busy international educators to quickly and easily turn re-entry into a powerful, positive, and transformative experience that students embrace, rather than reject.
After muddling through my own re-entries, and then struggling to help my students through theirs, several years ago I began researching, and then developing, testing, and refining these materials.
I am thrilled that they're now being used with returnees in study abroad, intern, service learning, exchange, and volunteer programs across North America! I'd love for you to use the Toolkit, too.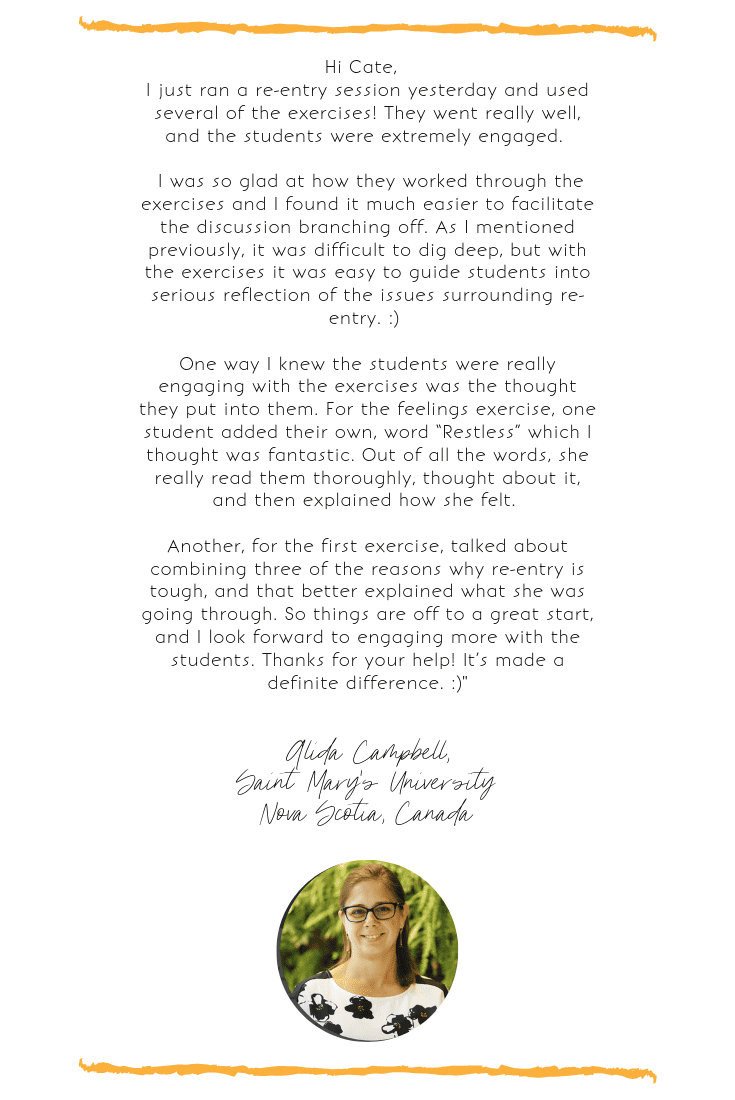 What's in the Toolkit?
(1) The Re-entry Roadmap workbook (PDF)
(2) A Facilitator's Guide for staff and faculty leaders
(3) Bonus resources for workshops & marketing

Let me tell you a little about each!
1. Re-entry Roadmap Workbook
Previously, this workbook was only available in hard copy but I've recently been able to make it available in the form of a fillable PDF (117 pages), which makes it so easy for you to distribute and use with your students!
The Re-entry Roadmap workbook is….
Self-guided, so even if you simply distribute it to your returnees, you can rest assured they'll be supported through their re-entry transition.
Fillable, so students can type their answers right into the PDF. It then becomes a kind of memory book to keep.
Flexible and adaptable, so you can decide which sections and activities to incorporate into your curriculum, workshops, conferences, 1:1 meetings, and online learning systems, before, during, and after students' programs.
Full of creative, reflective, and unique activities that help students deeply reflect on and process their emotions, identity, experiences abroad , and what they want their career, relationships, and global life to be like going forward.
Best of all? If you purchase the Re-entry Roadmap as part of the Toolkit it's 65% off the hard cover price! PLUS, you also get…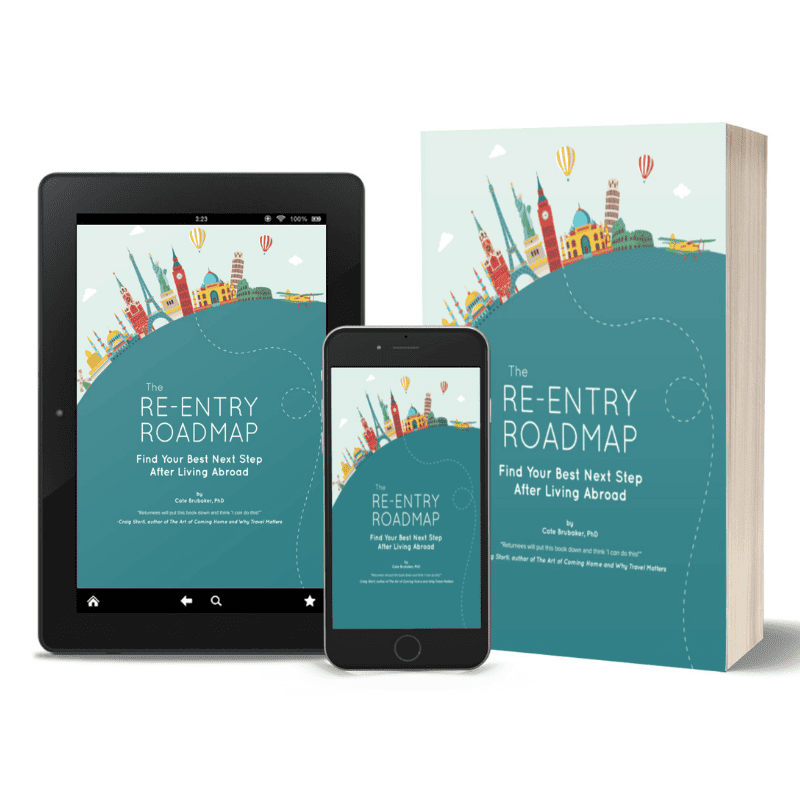 "Returnees will put this book down and think, I can do this!" – Craig Storti
TABLE OF CONTENTS
Section 1: Introduction
Section 2: Reflection Activities
Section 3: My Global Life Ingredients
Section 4: My Best Next Step
Section 5: My Re-entry Roadmap
2. Facilitator's Guide (PDF)
Ideas for using the workbook and other materials in various programming scenarios.
Strategies for facilitating the 10 most popular activities.
Suggestions for strengthening your overall re-entry programming.
3. Bonus Material
Having ready-to-go activities at your fingertips saves you so much time and hassle! That's why the Toolkit includes:
Videos highlighting three key re-entry concepts (re-entry iceberg, etc)
A slide deck
Inspiring social media quotes and reflection questions
10 of the most popular activities as easy individual downloads
My Global Heart bonus activity
Webinar replays to continue staff professional development
---
What People are Saying…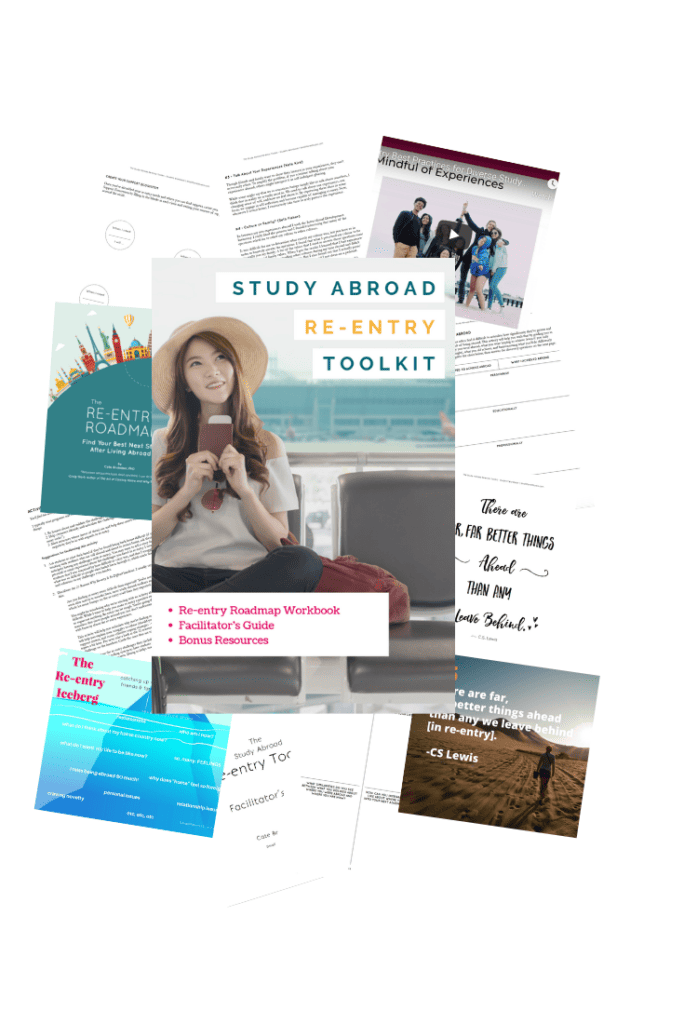 "The activities allowed me to explore feelings I did not know I had after returning from abroad. It has given me more confidence to explore and acknowledge my feeling of being stagnant, "bored" in my home country, and anxious for the next adventure." – Brianna Huff, Returnee
"Dr. Cate Brubaker has a fantastic new workbook that WILL change your life. Highly, highly recommended."
– Jessie Voigts, Wandering Educators
"This is an excellent resource for those who have lived abroad as well as returned study abroad students. "
– Mandy Reinig, Director of Study Away Program
"The activities Cate has crafted are not overwhelming yet deeply effective, the framework is logical, and the tool is action oriented. This is a great tool. Highly recommend!"
– Missy Gluckmann, Melibee Global
"Everyone who goes abroad should have a copy of The Re-entry Roadmap when coming back-actually, it should be sold in the duty free shop before going through customs. It is THAT good and essential. " – Pamela Arraras, Educator

---
About the Author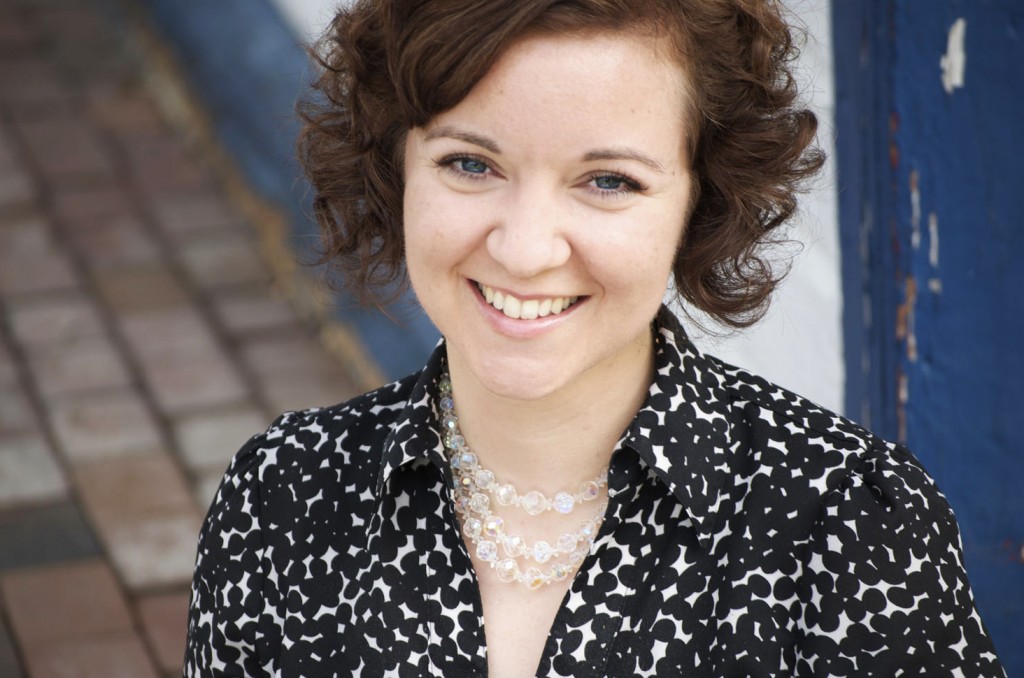 Hi, I'm Dr. Cate Brubaker, founder of Small Planet Studio, LLC and creator of the Study Abroad Re-entry Toolkit.
My entire career has been focused on helping students successfully navigate international and intercultural transitions. I've worked directly with study abroad students at Indiana University, Michigan State University, the University of North Carolina, Chapel Hill, and in three locations in Germany.
In my 20+ year career I've worked with short-term, semester, and academic year programs as an advisor, instructor, researcher, and program manager.
I've also worked with educators and institutions all over the world as a consultant and trainer, conducted research on study abroad, and written articles on re-entry (one was recently published in Die Unterrichtspraxis/Teaching German journal).
My mission is to make re-entry a positive, transformative force in every returnee's life. I'd love to help you do that for your students!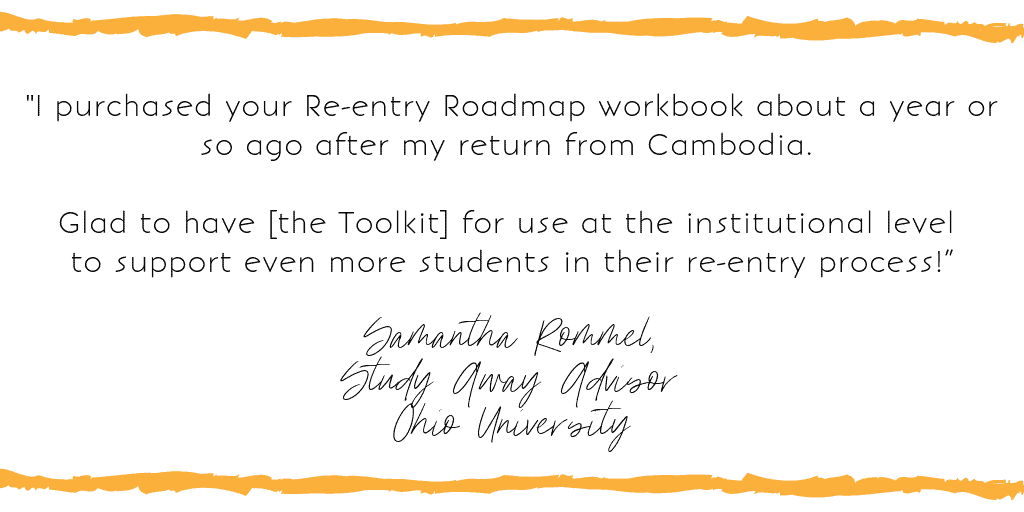 How much does the Toolkit cost?
The Toolkit is only $6 per returnee with a minimum order of 50 returnee license (US $300).
As a way to help returnees due to the COVID-19 crisis, I'm currently offering the full Toolkit for only $300 no matter how many returnees you work with.
Purchasing the Toolkit saves you 65%+ off the hard copy Re-entry Roadmap workbook price. PLUS you get the Facilitator's Guide AND all of the bonus resources!
You are welcome to pay via credit card, PayPal or check.
Please note —
If you're a severely under-resourced program, let's talk.
If you'd prefer hard copies of the Re-entry Roadmap workbook, let me know and I'll send you a price quote.
Due to the downloadable nature of the Toolkit, it is non-refundable.
Coaching & Custom Program Creation

I offer hourly coaching for programs that would like advice and guidance on how to create or enhance their re-entry program and/or how to get the most out of the Toolkit.

I also create custom re-entry programs for organizations that would like a program or workshop tailored to their returnees (e.g., a 1- or 2-hour re-entry workshop, a multi-week online program that includes intercultural communication topics, career resources, etc). If you're interested in either of the above, contact me using the form below!
I'm interested! What's the next step?
Great! All you need to do is email me at cate (at) smallplanetstudio.com and I'll send you an invoice. You are welcome to pay via credit card or check.