Let's face it…re-entry is tough.
For most people it's THE hardest part of the entire living abroad experience!
You wouldn't think that going home, that returning to the familiar, would be so difficult, right?
But it is.
Re-entry is when globetrotters feel the most isolated, lonely, overwhelmed with complex emotions, restless, frustrated, sad, tired, conflicted…the list goes on.
The Good News?
Re-entry doesn't have to be that way! And you don't have to go it alone (you shouldn't go it alone)!
I started Small Planet Studio, LLC to help returnees better navigate the hardest part of the entire living abroad experience – going home.
I remember feeling so lost in my own re-entry (read more about my story here), then I felt under-equipped to guide my student returnees when I started working in international education.
That's why I've spent the past several years digging into the re-entry experience and research, writing books and articles, hosting webinars and summits, leading Mastermind groups and workshops, coaching, and presenting my ideas at NAFSA, SIETAR USA, FIGT and other conferences – all in order to figure out what actually works in re-entry.
A Better Re-entry
I wholeheartedly believe that with the right tools, mindset, and community, you can turn re-entry into a positive, transformational force in your life (even if you're heart's desire to move abroad again)!
Re-entry – or forward entry, as I like to call it – offers a unique opportunity to deeply reflect on who you are now, what (and who) is important to you now, and what you want your life to be like going forward.
I offer a workbook for returnees, an anthology featuring five raw takes on the re-entry experience, a small group program, 1:1 coaching, and a re-entry Facebook group. I also host webinars, lead workshops, and consult on re-entry programs for organizations and providers.
If you're a study abroad professional, check out my Study Abroad Re-entry Toolkit. Coaches, take a look at my bulk rates for the Re-entry Roadmap workbook.

Links on this page contain affiliate links, meaning, if you click through and make a purchase or sign up for a program, I may earn a commission. This is at no additional cost to you.
---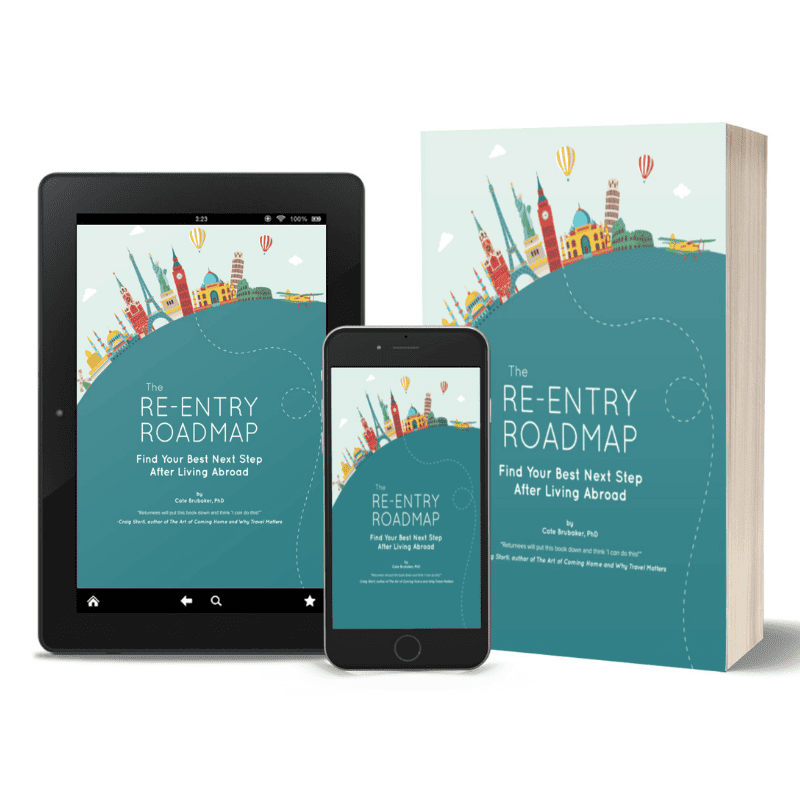 The Re-entry Roadmap: Workbook, Group Program & 1:1 Coaching
Filled with fresh insights, thought-provoking activities, and actionable advice, the Re-entry Roadmap workbook gives you the keys to a successful re-entry and "forward launch."
Process your complex emotions
Navigate changing relationships
Adjust forwards (no going backwards here!)
Articulate what you learned and experienced abroad
Reflect on who you are now
Identify your Global Life Ingredients
This lively, humorous, and engaging guide shows you how to put what you've learned about yourself into a plan of action – your "Forward Launch" – for living a beautiful, meaningful, and satisfying global life that you love no matter where in the world you are. Available in hardcopy and Kindle editions on Amazon.
I also offer a Re-entry Roadmap small group program and 1:1 coaching.
---
Arriving Well
Arriving Well is a compilation of five raw, compelling, autobiographical stories about re-entry. Each of the authors experienced the roller-coaster ride of re-entry to their passport country in totally different and yet totally valid ways after a differing number of years abroad.
This book highlights the variety of ways in which people experience re-entry and offers resources – inlcuding mini-coaching, reflection questions, and helpful resources – to help you on your re-entry (repatriation) journey.
Arriving Well is a must-read for anyone thinking about or in the midst of returning home. Available on Amazon (Kindle).
---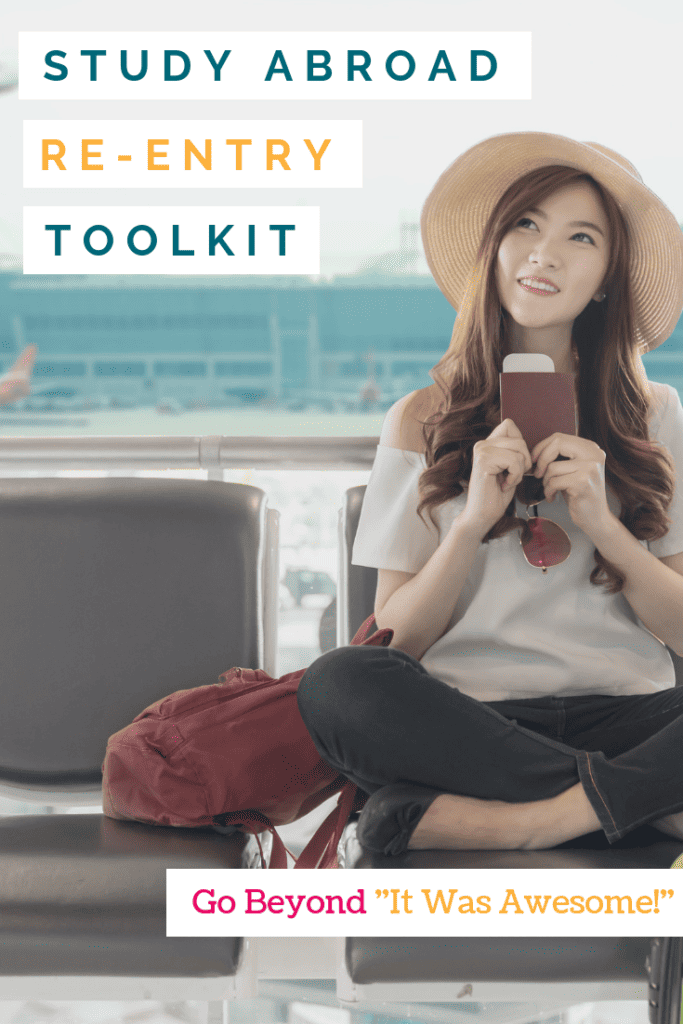 ---
Study Abroad Re-entry Toolkit
This Toolkit enables busy international educators to quickly and easily turn re-entry into a powerful, positive, and transformative experience that students embrace, rather than reject.
What's in the Study Abroad Re-entry Toolkit?

(1) The Re-entry Roadmap workbook (PDF)
(2) A Facilitator's Guide for staff and faculty leaders
(3) Bonus resources for workshops & marketing
Click here to check out the Toolkit!
"This is an excellent resource for those who have lived abroad as well as returned study abroad students. "

– Mandy Reinig, Director of Study Away Program
---
Travel Journal
Planning a trip? The I'm Thinking…Travel! JOURNAL is perfect for you!

This guided travel journal inspires you to record *and* reflect on your trip from beginning to end, then turns into a treasured keepsake!

Prompts to inspire reflection and creativity before, during, and after travel
Plenty of space for you to record the highlights and details of your amazing trip, whether 10 days or 5 weeks
Weekly "travel snapshots" to quickly and creatively capture the most memorable elements of your travels
Large enough to enjoy writing in it, small enough to fit in your day bag
Link to Bonus Resources included in the journal
Size: 5 x 8 inches, 83 pages
#1 New Release!

---
—
Disclaimer: Small Planet Studio is a participant in the Amazon Services LLC Associates Program, an affiliate advertising program designed to provide a means for us to earn fees by linking to Amazon.com and affiliated sites.