Realunch Virtual Re-entry Retreat Starts Monday!
Are you joining us for RELAUNCH? I hope so! I've organized a week of sessions with 19 other amazing coaches, trainers, teachers, and leaders who are also all adventurous globetrotters who've been in your re-entry shoes.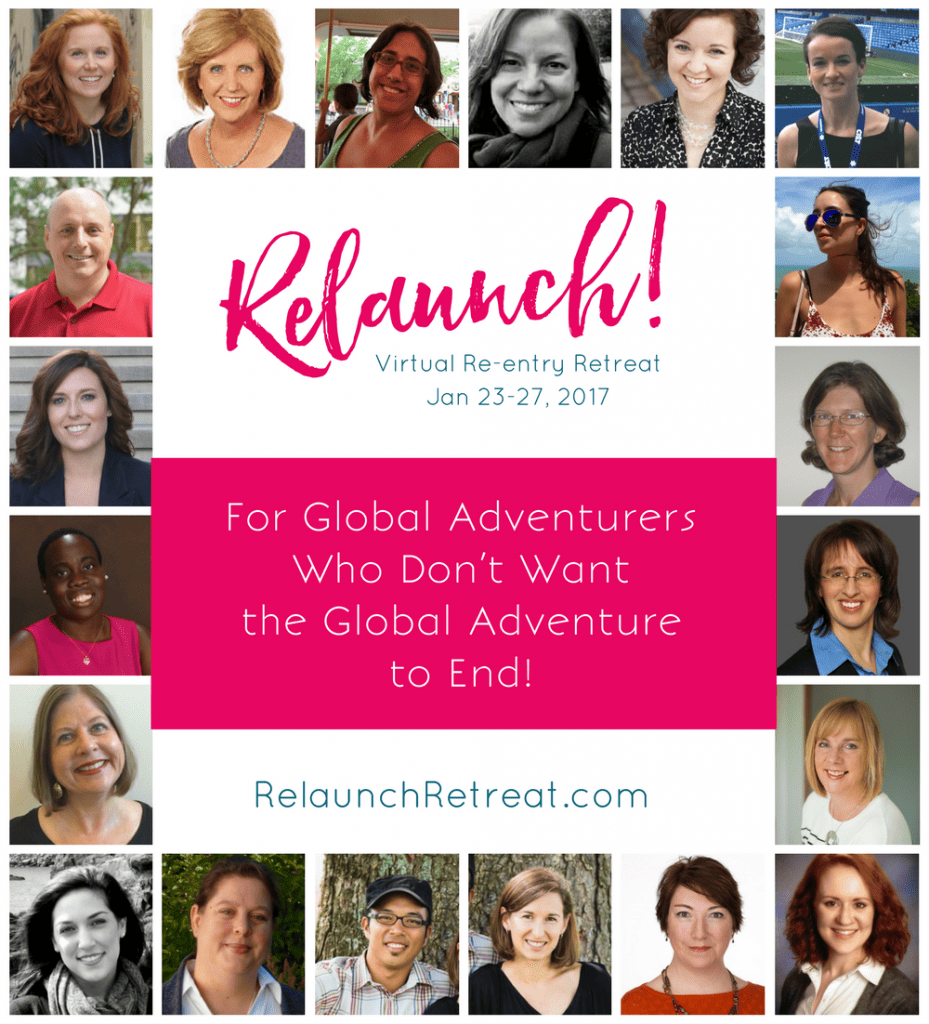 Who Is RELAUNCH for?
Have you been abroad? Are you abroad now? Do you want to take proactive, intentional approach to your return? Did you live, work, teach, volunteer, study or travel in another country? Do you feel changed by your experiences abroad, no matter how long ago you were abroad?
Do you want to confidently navigate reverse culture shock, reflect on who you are now, and live a thriving global life?
If your answer is yes to any of those things, RELAUNCH! is for you.
You DON'T have to be "just returned" to want the support, connection and inspiration you'll find at the RELAUNCH! Virtual Re-entry Retreat.
IF YOU'RE STILL ABROAD >>
Use the event to take a proactive, intentional approach to the return part of your global journey. Your future self will thank you!
IF YOU'VE JUST RETURNED >>
Join us for sessions that will help you navigate the transition you're smack in the middle of.
IF YOU'VE BEEN HOME A WHILE >>
Delve deeper into self-reflection and growth. Once you've been abroad there's always more to learn about your yourself, how being abroad has changed you, and what you want your global life to look like going forward!
Register for free using the form below!
[convertkit form=4945578]

Check out the schedule below…which sessions do you most want to attend? (You're welcome to attend as many or as few as you'd like.)
Day 1: Monday, Jan 23
Let the Relaunching Begin!
#1 — 12pm EST
How to Find Your Re-entry Relaunch
(Cate)
#2 — 1pm EST
The 6 Most Important Things to Do When You Arrive Back Home
(Louise & Kerianne)
#3 — 2pm EST
An Interview with 3 Successful Re-entry Relaunchers
(Anita, Mattie & Alethea)
---
Day 2: Tuesday, Jan 24
Processing Your Past to Create Your Future
#4 — 12pm EST
5 Questions to Ask Yourself in Re-entry
(Cate)
#5 — 1pm EST
The Best Mindset to Cultivate for a Smoother Re-entry
(Helen & Doreen)
#6 — 2pm EST
Navigating Re-entry as an Introvert
(Beth)
---
Day 3: Wednesday, Jan 25
Building a Bridge to Your Next Adventure Abroad
#7 — 12pm EST
How to Follow Your Head and Your Heart When Planning Your Next Stint Abroad
(Pouneh)
#8 — 1pm EST
How to Relaunch Yourself into Life as a Global Nomad
(Michelle & Jedd)
#9 — 2pm EST
Don't be a One Hit Wonder!
How to Make Future Travel as Transformative as Your First Time Abroad
(Deidra)
---
Day 4: Thursday, Jan 26
Career Strategies for the Re-Entry Relauncher
#10 — 12pm EST
Career Strategies for the Re-entry Relauncher
(Amanda)
#11 — 1pm EST
How to Get Your Foot the Door of the Intercultural Field
(Susan & Brett)
#12 — 2pm EST
Passion isn't Enough: Getting into the International Ed Field
(Missy & Brooke)
---
Day 5: Friday, January 27
Telling Your Global Story in Re-entry & Beyond
#13 — 12pm EST
Tips for Blogging in Re-entry & Beyond
(Michelle)
#14 — 1pm EST
How to Live a Fabulous Global Life at Home
(Sabrina & Vicki)
#15 — 2pm EST
Relaunch Group Art Project
(Cate, Deidra)
Register for free using the form below!
[convertkit form=4945578]