My Re-entry Story: Brianna Huff, Going "Home" After Japan and Chile
Brianna Huff is a recent grad from the University of North Carolina Charlotte and has dedicated her studies to learning about the media of other cultures and languages. She is a frequent volunteer in the global community of Charlotte and uses her Spanish skills to communicate with the latinx community. In her free time she writes and dreams of her next global adventure. You can find her here and on Twitter and Instagram.
Hi Brianna! Where were you abroad and what did you do there?
I had the opportunity to frequently visit my parents in Okinawa, Japan over the course of two and a half years. While visiting my parents, I would engage with the local community by eating at their Mom and Pop shops, exploring their traditions and cultures, and taking tours of historical landscapes.
In addition to traveling to Japan, I studied abroad for a semester in Valparaiso and Vina del Mar, Chile. While in Chile, I volunteered with many different nonprofit organizations. I felt the need to give back to the country that had taught me to dance Salsa, to make Completos (which is a hot dog with tomatoes, avocado and mayo oozing on top), and taught English to university and elementary-aged students.
I also volunteered with Techo, a nonprofit similar to Habitat for Humanity. As a volunteer I had the opportunity to sleep and work in the hottest, driest desert in the world, El Atacama. Another nonprofit I volunteered with as an English tutor and a surf guru was Valpo Surf Project. With this nonprofit I learned how to surf and taught surfing in the freezing waters of Con Con.
When did the idea of reverse culture shock get on your radar? Did you have any re-entry shock preparation, training or debriefing?
As a child of a Marine, I have constantly moved every two to four years. At this point in time, I knew how to re-enter my "home" society – or at least I thought I did. When I was in Japan, I fell in love with its beauty and its people's culture. But, after returning to the United States I readjusted quickly. I cannot say the same occurred when I arrived "home" from Chile.
I have had thoughts of returning to Chile since the day I left. Unlike in Japan, I became friends with the locals in Chile and we created many memories. While volunteering with Techo, I met my hermanita (sister in Spanish) Francisca. We had an instantaneous connection. Although my Spanish was intermediate she took the time to explain everyday situations to me and helped me practice my Spanish. Over the course of my remaining two months we frequently travelled to other places in Chile including Concepcion and Los Angeles, two cities in the south of Chile, and Papudo, a city where the sea and land meet – or at least that is what I coined it.
The idea of re-entry occurred to me when my university's study abroad office offered a re-entry program for those returning from studying abroad. I decided to go and learn about how I can use my experience of studying abroad in the workforce, on my resume, and in interviews. I enjoyed participating because it prepared me for and helped me get over reverse culture shock.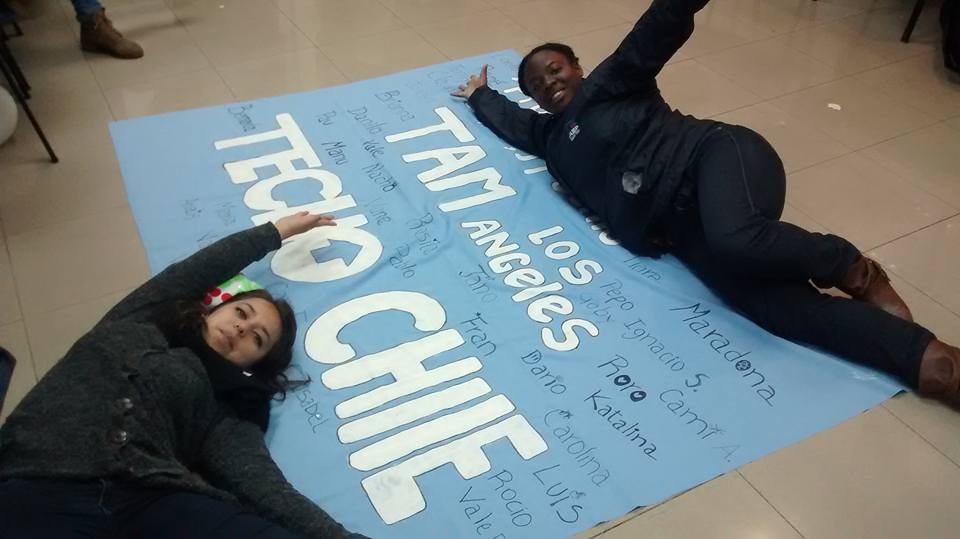 What was your re-entry experience like?
The day I re-entered the U.S. my friend and I went to a fast food restaurant. When I attempted to order I said, "Yo quiero…" this is how you order food at restaurants in Spanish. I had forgotten how to speak English because I was constantly speaking Spanish to my friends and host family in Chile. I was embarrassed and nervous that I would not remember my native language. It did take a while to transition but it was a successful one. I surrounded myself with my extended family and frequently ate at Mexican restaurants. At those restaurants I would practice Spanish with the waiter or the owner.
What do you know *now* about re-entry shock that you wish you'd known earlier?
I wish I would have known about reverse culture shock before returning. I was a little shocked by some of the social etiquettes we have in the South. For example, I eat with a fork and knife at every meal, a technique I thought was observed for the Europeans or at fancy restaurants. I am also more direct with requests and in speaking with others in lieu of "beating around the bush".
What tips do you have for others who are about to go through re-entry shock?
Here are tips I have for those who are re-entering the U.S.:
Continue to practice your language skill if you gained one.
Be engaged with your local global community.
Find others who have similar experiences to talk about them with. Most people find it difficult to talk to their friends or family because they have changed while others may have remained the same.
Become a source of information for others interested in going abroad
Use what you learned abroad and apply it to your everyday life.
And… just for fun: if re-entry were a food what would it be? Why?
If reentry was a food it would be a tart. Tarts are bitter to the taste, but sweet in the end.
Thanks for sharing your re-entry story, Brianna!