Re-entry Roadmap 1:1 Coaching
---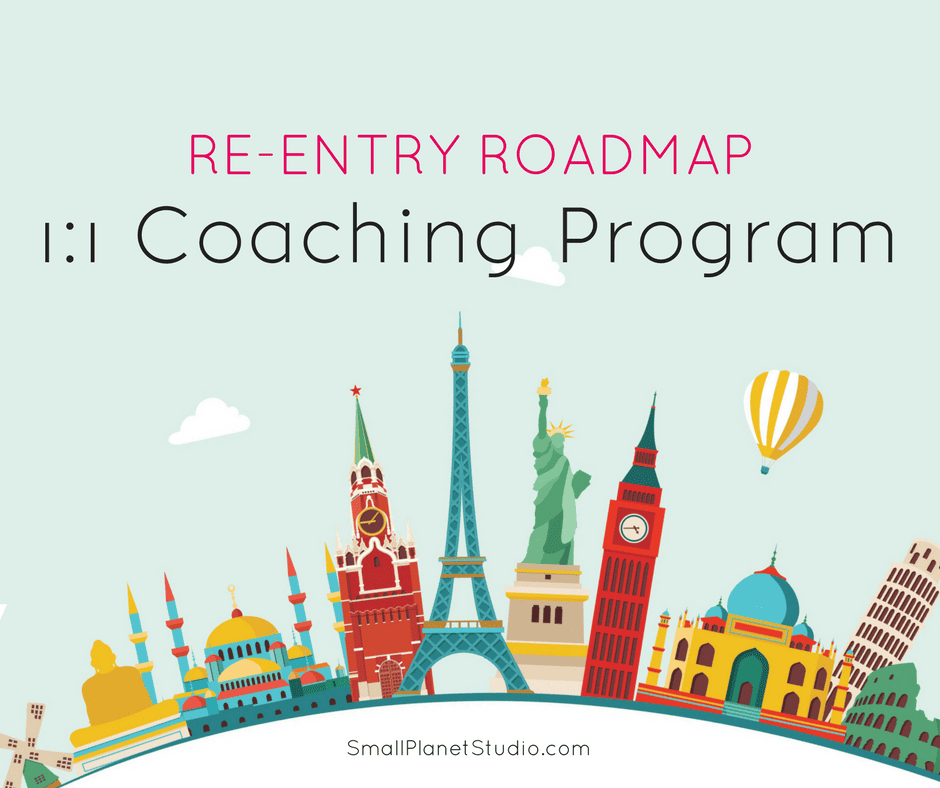 The Re-entry Roadmap 1:1 coaching program helps you navigate the challenging re-entry transition with confidence, connection, and inspiration.
I'll help you process your complex emotions, reflect on how living abroad has changed you, and find your Global Life Ingredients so you can use them as a compass for finding your best next step.
Together, we'll bring who you are on the inside to the outside so everyone will clearly see who you are now (including yourself).
You'll gain valuable insight, peace, and confidence that will help you embrace what's next.
Tell me more about the coaching program!
This program is perfect for returnees who are looking for personalized tools, support, and guidance through the often rocky re-entry transition.
Before our first session I'll email you a short intake form to fill out so you can tell me about yourself, your time abroad, and your re-entry so far.
In your first session, we'll debrief your time abroad and your re-entry so far, identify your individual re-entry factors, and then set initial goals for our work together. Coaching sessions are private, confidential, and nonjudgmental, so this session is your opportunity to get everything out in the open–the good, bad, and the ugly of re-entry!
In your second through fifth sessions we'll work together to…
Process your complex emotions about your experiences abroad and returning "home"—
so you can feel calm and centered instead of stressed, overwhelmed, and alienated.
Unpack your identity by reflecting on what you learned abroad as well as who you are and what you want your life to be like now—so you can feel deliciously global, alive, and adventurous on your terms.
Fine-tune your re-entry mindset—so you can feel confident, connected, and prepared.

Create strategies for being "home" in a way that keeps you moving forward—so you can strengthen both your "home roots" and your "global wings."

Pinpoint your Global Life Ingredients and your Forward Launch—so you can feel excited about what's next for you, you and your partner, or you and your family.
While we use the Re-entry Roadmap workbook as the starting point and guide, everything is tailored to your re-entry experience and challenges, as well as and your interests and goals.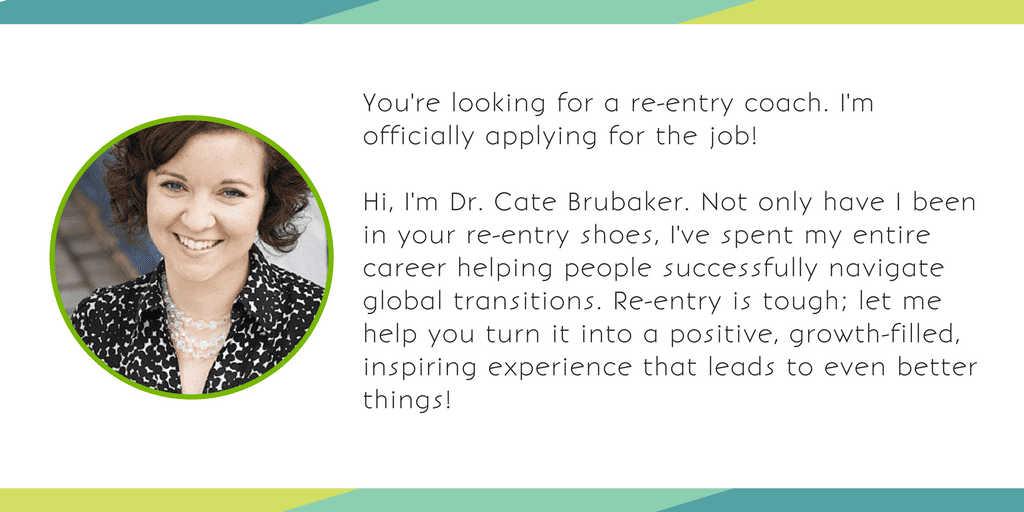 What does the Re-entry Roadmap coaching program include?
Five 1-hour sessions (Zoom video, audio or phone – your choice)
A personalized program built on proven re-entry materials
The Re-entry Roadmap workbook sent right to your front door* ($17 value)
A spot in the next Re-entry Roadmap/Global Heart Collective group program ($300 value)
Light email coaching in-between sessions
My extensive network, knowledge, and experience with transitions, intercultural communication, international education, and building a global career and location-independent business
My supportive, nonjudgmental coaching style and over 20 years experience guiding people through international and intercultural transitions
Cost: $997 US
*There may be a small supplemental charge to mail the workbook outside the continental US.
Testimonials
"Reflecting on re-entry, assumptions, goals, and values really helped me put everything into perspective. Discussing the remainder of my inner resistance to repatriation with you was enlightening."
–Sibylla 
"Cate asked the questions I needed to be asked. But I didn't know that I needed to be asked those questions until she asked them!"
-Anita
"I've craved a global life for years, and I thought that meant that I needed to sell my house and be a full-time nomad. It was a source of conflict, within myself and with my husband, that I felt like I had to settle.
Then, by digging into the core of what I love about being abroad, Cate helped me create a global life that's actually far more satisfying to me than what I thought I wanted, and brings all my goals together, cohesively. It sounds too good to be true, but it isn't!
To anyone who's feeling the tension between unfulfilled wanderlust, and the need to make a living and and a life – I highly recommend working with Cate!"
-Katie
"My conversation with you has been the most enlightening of all."
-Kirsten
I'm interested! What's the next step?
Contact me here, tell me a little about yourself (e.g., your experiences abroad, how your re-entry is going) and we'll go from there!