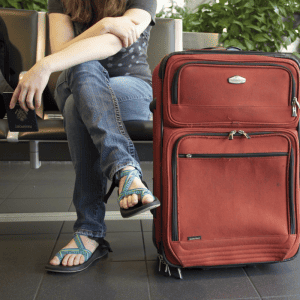 You've been living abroad and now it's time to return "home."
If this is your first re-entry (repatriation) you may be wondering what to expect!
I'm not going to sugar coat it: reverse culture shock is typically the hardest part of living abroad.
You wouldn't think that going home, that returning to the familiar, would be so difficult, right?
But for most people it is.
Fortunately, just like you prepared to thrive abroad, there are things you can do to thrive in re-entry!
I created the short quiz below so you can assess how prepared you are to thrive. Once you know where you stand, you'll have a better idea of the steps to take to ensure that you thrive during your re-entry from abroad!
Take the Quiz
How prepared are you to thrive in re-entry? Take this quiz to find out!
Have I created a re-entry support ecosystem?
Am I aware of the hurdles I'm likely to face in my re-entry? Do I have strategies prepared for overcoming those hurdles with confidence and ease?
Do I know the questions to ask myself in order to reflect on and then articulate what I learned and how I changed while living abroad?
Do I have specific strategies for adjusting to being home in a way that keeps my relationships, career, and global life moving forward on my terms?
Am I clear on how I want to feel in re-entry and in my life going forward? Do I know what simple things I can do to each day to feel that way?
Do I know what I want to do or where I want to go next in my life and/or career? Am I confident that my plans align with my Global Life Ingredients?
Have I created a "re-entry reframe" that makes me excited about what I'll learn about myself and how I'll grow in re-entry?
Do I have a clear vision for what "living a global life" can mean for me now and in the future?
Do I have a re-entry self-care plan that will ensure I stay mentally and physically fit?
Do I have a plan for reconnecting with the people and places at home that are most important to me, as well as staying connected to people and places abroad?
How many times did you answer yes to the questions in the quiz?
From my experience coaching returnees (not to mention my own re-entries), the more times you answered yes, the more prepared (and likely) you are to thrive in re-entry.
If you didn't answer yes as many times as you'd hoped or would have liked, don't worry!
The truth is, most returnees are not prepared for re-entry, through no fault of their own. For most people, once they board that last flight home, they're left completely alone to navigate the intense emotions, relationship conflicts, career challenges, restlessness, identity issues, and a whole host of other bumps on the re-entry road.
Fortunately, it doesn't have to be that way for you! With the right approach, you can return with confidence, connection, and clarity of purpose. I'm here to help you, as is the entire SPS community. Join our Facebook group for re-entry support and guidance!