Chile, China & Beyond: Leslie's Global Career Story (Part 1)
Note from Cate – Hearing about someone's global career path is fascinating, isn't it? The decisions they made, the opportunities they seized, the challenges they faced…seeing how everything links up can be so helpful in relaunching your own global career after you've been abroad. I hope you enjoy reading about Leslie's global career path!
—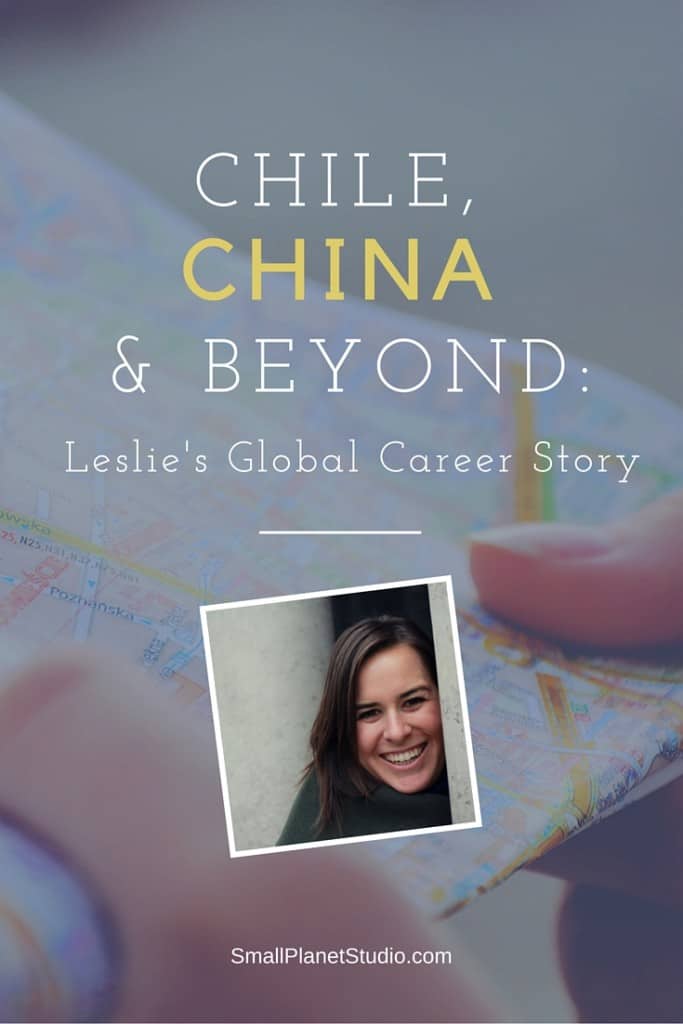 I enjoyed reading Cate's series about her global career path and I'm so excited to share my story here on Small Planet Studio. Greetings from San Francisco, California — my hometown!
I moved back to California about a year ago, having spent eight of the past ten years in China and Chile. My experiences in foreign countries have had an immeasurable impact on my life and how I see the world. I've also been continually challenged to define and redefine what I have to offer, in a wide range of industries and roles and places.
A Global Upbringing
My global life started before I was even born. My parents are travelers. Mom studied abroad in college in Germany. Dad studied abroad in high school in Brazil. "To be my partner in adventure" was one of their wedding vows.
When I was a tiny, talkative girl growing up in San Francisco, Nana Petra took care of me while my parents were at work. A skilled cook and devoted grandmother from Mexico City, Nana Petra spoke Spanish as she dressed me up in white lace dresses and challenged me to games of Lotería.
I studied Spanish all through high school and college, and jumped at the opportunity to study abroad as part of my studies at the University of California, Berkeley. I chose Santiago, Chile for a full year — half of my junior year and half of my senior year.
The history, business, and mountaineering classes I took all counted towards my Latin American Studies degree, and the conversations challenged my ideas about politics and social class structures.
That year I did an internship with an organization called Acción Emprendedora, a non-profit that supports entrepreneurs in their early-stage ventures. We worked with shopkeepers, toymakers and pastry chefs. Seeing the ways that entrepreneurship and business could be used to make a difference in people's lives inspired me.
At the end of 2005, I finished my year studying abroad. Chile changed my perspective; I'd grown up. As I packed my suitcases, I tried summarize my experience in one sentence: "Chile's a country of contrast between rich and poor, traditional and modern, liberal and conservative, city and countryside and as an international student, I was able to see the extremes of all of these different contrasts often in the same day." In December I left Chilean summer and landed in California winter.
Re-entry hit me hardest when I went back to university.
I lived in the sorority house where I'd lived B.C. (before Chile). The rules seemed silly — no boys upstairs after ten or downstairs past midnight, you must wear light-but-bright-blue + bronze + brown tweed for tomorrow's event….
I overcommitted myself. I needed two classes to graduate, but signed up for five, including a social entrepreneurship seminar and a student-taught women's leadership course.
About a month into the semester, burnout hit me. I missed Chile. I rushed between classes and activities and internships, fueled by fear of missing out, exhausted.
Fast-forward a few months. I graduated on May 18, 2006 — right on schedule. I marched in cap and gown to celebrate.
I had no idea what to do next.
A few days later, I sat in my childhood home in the suburbs, as rain poured outside, reading Delaying the Real World by Colleen Kinder.
That book contains hundreds of ideas of what to do after college. Go work on a cruise ship! Or teach at a ski resort! Or join the Peace Corps! It all sounded more exciting than going straight to graduate school or getting a job in a cubicle.
Given my nostalgia for Chile and my interest in all things international, I started looking up everything in the international section.
I found out that the Council on International Education Exchange (CIEE) had a program called Teach in China, and they were looking for native English speakers with college degrees. I met those requirements. The deadline was a few days away. I'd never been to China, never taken any classes about China, never studied Chinese. I'd always focused on Latin America.
But I was curious. I wanted to be the kind of person who could pack up my life and move across the world into the unknown. So I called the CIEE office.
"Great!" the representative said. "Let me send you the list of program veterans."
I sent a few quick emails and within a few hours, my inbox filled with encouraging notes:
Go Leslie, do this thing and you won't regret it.
Do it! I got so much out of the experience. Much more than the study abroad programs that I did in college.
I love love LOVED teaching in China. I had virtually no teaching experience and spoke no Mandarin beyond ni hao and xie xie.
My students were beyond LOVELY and eager and enthusiastic.
The day before the deadline, I stood at Kinko's, getting ready to FedEx in my documents to teach at Jiaxing University in Zhejiang Province, near Shanghai. I stood in the store, speechless and staring at my passport for a solid hour, asking myself: What am I doing? What am I doing? What am I doing?
Less than three months later, I was on a plane to China….
Click here to read part 2 of Leslie's story!