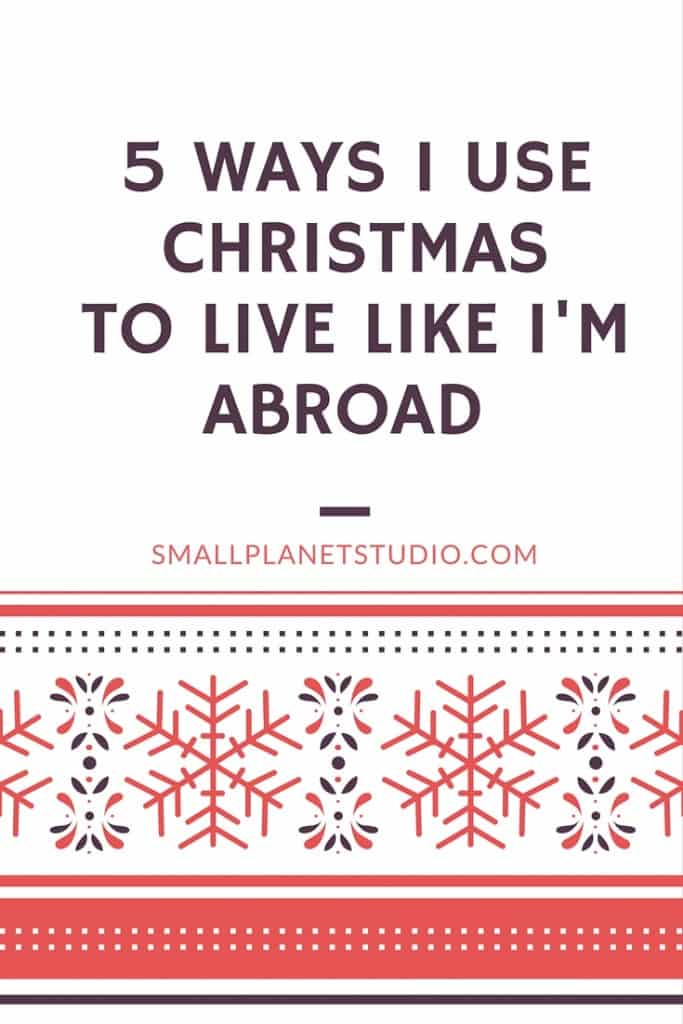 I spent my first Christmas abroad in Germany and loved it. The outdoor Christmas markets, chocolate advent calendars, advent wreaths, candles, cookies, cakes, Glühwein, St. Nikolaus Day, eating my German host family's traditional sausage and potato salad and then opening gifts on Christmas Eve…I loved it all.
This time of year, more than any other, makes me feel close to Germany.
Since I currently live in the US, my home country, I like to find ways to "live like I'm abroad" when I'm at home. Meaning, I incorporate things I enjoyed abroad into my life at home. Christmastime makes this super easy, and I've incorporated several German traditions and other global elements into my Christmas celebrations over the years. Here are five examples:
1. Advent Wreath
In Germany you can buy advent wreaths with candles pretty much everywhere. Here in the US I have to improvise. Sometimes I buy a wreath and place four candles in the middle. This year I simply used a countdown candle that I bought a couple year's ago in Scotland.
2. Christmas Ornaments from Around the World
When Aaron and I got married we had about five Christmas tree ornaments between the two of us. Each one had a special memory or story attached. We thought about heading to Target for more ornaments but instead decided to slowly build up our collection by buying one in every country we visited. We now have to many to fit on one tree! Now, decorating the tree each year is a fun trip down travel memory lane.
3. Decorations
I'm not big on a lot of Christmas decorations but I do have a few items displayed in my house that remind me of living and traveling abroad. It makes me feel warm and fuzzy to remembering where I was and what I was doing when I bought Christmas postcards in Austria or my little Santa in England.
4. German Christmas Music
We have a few Christmas albums that we play over and over during the holidays. One of my favorites is a mashup of German Christmas carols that one of my English students in Germany gave me years ago. Hearing those songs reminds me of the cozy Christmases celebrated with friends in Germany.
5. Food
Can't forget food! Trader Joe's and World Market stock many of my favorite German Christmas goodies, and we have a German bakery nearby with much to offer. We always pick up a Stollen and a few chocolates at the minimum. Usually our Christmas meals incorporate delicious dishes we've eaten while living and traveling abroad. Sometimes we get ambitious and make something new, like a Buche de Noel. Speaking of which…time to head to the store!
—
How do you use holidays to "live like you're abroad" at home?
This post was originally published on December 24, 2014.