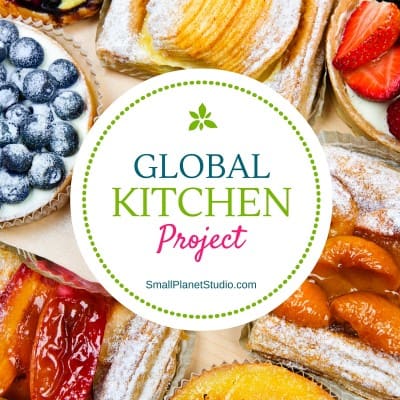 Happy New Year! I'm back home from a quick trip to Chicago and it's the first Monday of January, which means it's time for the Global Kitchen Project! The GKP is one of two new SPS projects for 2016 – the other one is the #GlobalYou365 journaling challenge.
One of the best things about traveling and living abroad is eating delicious new foods. And one of the ways I "bring global home" is by cooking and baking my favorite foods from around the world. So, I decided that 2016 the year of global kitchen.
On the first Monday of each month I'm going to post a recipe. Then, I'll post photos of my progress and the results on Instagram. I hope you'll follow along here and on Instagram, and even make the recipe in your own kitchen!
January's Recipe: Laugenbretzeln
After all of the sweets I consumed in December I wanted to start of the GKP with something tasty but not sugary. German pretzels immediately popped into my mind. There's nothing better than a fresh, soft pretzel with butter. It's one of my favorite mid-day bakery snacks when I'm in Germany, and I'm so looking forward to eating them fresh out of the oven in my own kitchen. I've never made them before, but the recipes I looked at don't make it look too difficult…we'll see!
Ok, let's get to it – here's the recipe I'm using (from Saveur). The recipe says it makes two large pretzels.
Ingredients
1 1⁄2 tbsp. barley malt syrup (or firmly packed dark brown sugar)
1 (¼-oz.) package active dry yeast
3 tbsp. unsalted butter, softened, plus more for serving
4 cups flour, plus more for dusting
1⁄4 tsp. kosher salt
2 tbsp. baking soda
Coarse salt, for sprinkling
Heat a baking stone in an oven to 500°. Stir together syrup, yeast, and 1½ cups warm water in a large bowl, and let sit until foamy, about 10 minutes. Add butter, flour, and salt, and stir until dough forms. Transfer to a lightly floured work surface, and knead until smooth and elastic, about 8 minutes. Halve dough, and working with one piece at a time, roll dough into a 4′ rope, about 1″ thick. Transfer rope to the bottom edge of a sheet of parchment paper, and keeping the center of the rope on the paper, pick up both ends, cross one end over the other, about 2″ from the ends, and twist; attach each end to the sides of the pretzel. Repeat with remaining dough, and set aside to rest for 20 minutes.
Bring baking soda and 1 cup water to a simmer in a 2-qt. saucepan over medium-high heat, stirring constantly until baking soda dissolves. Brush each pretzel generously with the baking soda solution, sprinkle with coarse salt, and using a sharp paring knife, make a 6″ slash, about ¼" deep across the bottom edge of the pretzel. Working one at a time, slide pretzel on parchment paper onto the stone; bake until dark brown, about 15 minutes. Repeat with remaining pretzel. Let cool for about 10 minutes; serve warm with butter.
Rather watch a video?
Here's one I found that demonstrates the basic recipe.