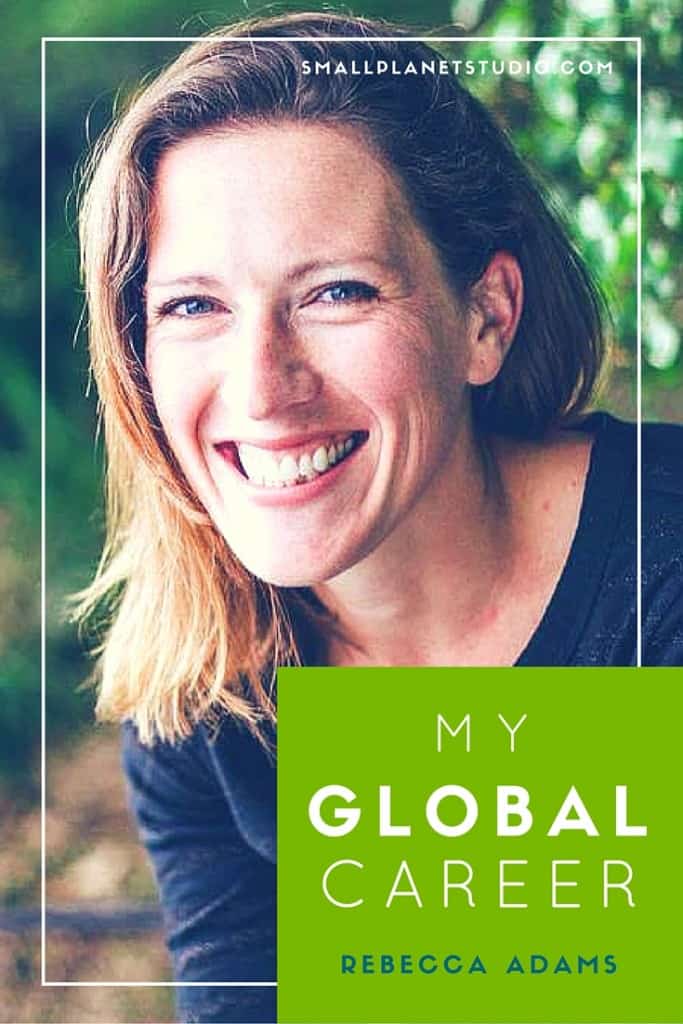 You're a global adventurer who wants a global career. But you wonder what your options are. And you want to know what it's really like to work with international students, in a study abroad office, as an intercultural trainer, etc? 
Enter: the My Global Career interview series, where I interview global adventurers who have global careers.
Today we're talking with Rebecca Adams, who is an Associate Director of International Education at Everett Community College in Washington state. She has worked in international education for 10 years, holds a Master's in International Studies from the University of Sydney, Australia and a Bachelor's in International Studies and Spanish Language from Queens University of Charlotte, North Carolina.
Hi Rebecca! So, what do you currently do professionally?
Currently I am an Associate Director of International Education at Everett Community College.
Tell us a little more about your position  What are some of your day-to-day responsibilities and duties? What kinds of projects do you work on? 
I work with existing international partners and develop new partnerships for the purpose of recruiting international students to attend EvCC. My countries of responsibility at the moment are South Korea, Mexico, Colombia, and Mongolia. I travel about 4 times per year to meet with international partners, update them on our programs and services, and meet with potential students and their parents.
I take part in cross-campus/cross-curricular teams to examine the international student experience here on campus and implement changes to improve the experience or make processes related to international students more efficient.
Some of the projects I have worked on during my time here include: launching (and ironing out the bugs in) a new English language program that moved from a single level/single course structure to a multi course structure that allowed students to place in multiple levels simultaneously; developing and implementing an online math placement exam that can be administered by our international partners; working with our art department's faculty and students to create infographics to help our lower-level English language students with specific administrative procedures they needs to follow, but may not have the language skills to understand the written procedures we currently provide them with; examining opportunities for the expansion of English language placement tests we accept; and program evaluation for reaccreditation.
I am also part of our office's Marketing Committee. We meet regularly to review our international marketing strategies and discuss what is and isn't working in our respective markets and share ideas for how our international outreach can be improved. We also evaluate countries as prospective new markets including reading current events and news, looking at GDP per capita and PPP rates, and reviewing data from IIE Open Doors Reports.
My daily tasks include assisting our currently enrolled international students on a daily basis. We offer daily walk-in hours where we help students resolve issues around finding on-campus jobs, how to access on-campus resources (such as the tutoring center or counseling services), answer immigration questions, help them with answers about transferring to a 4-year university, and more. I am a DSO (Designated School Official), working regularly with immigration issues and documents, and assist with international student admissions as needed.
What do you like most about your current position? What are some of the challenges?
I like the diversity offered in my current job. Our office is small and I am gaining experience in a variety of areas. One of my favorite things about working in international education is getting to work with faculty, deans, and other administrators, this job has provided me to work with fabulous cross-curricular teams to problem solve and improve our campus for existing and future international students.
The size of our office and diversity of my responsibilities is also one of the biggest challenges I face. Many of my colleagues who recruit do only that, recruit. And many of my friends who are administrators do not have a recruitment aspect to their job. Having both responsibilities can make balancing recruitment and on-campus needs difficult. There is lots of give and take involved when you are not dedicated to just one side or the other.
Another challenge of my job is that I am a single mom of two small children (2.5 and 5). Working all day and coming home to more hours of people needing you can be a huge struggle both emotionally and energy-wise. There is no one to share responsibilities with if there are meltdowns and tantrums, the stomach flu, or  kids are up all night. Traveling for work with two kids also takes community support! I am so thankful to have my parents around to bear the brunt the child rearing while I am abroad or working late hours in the office!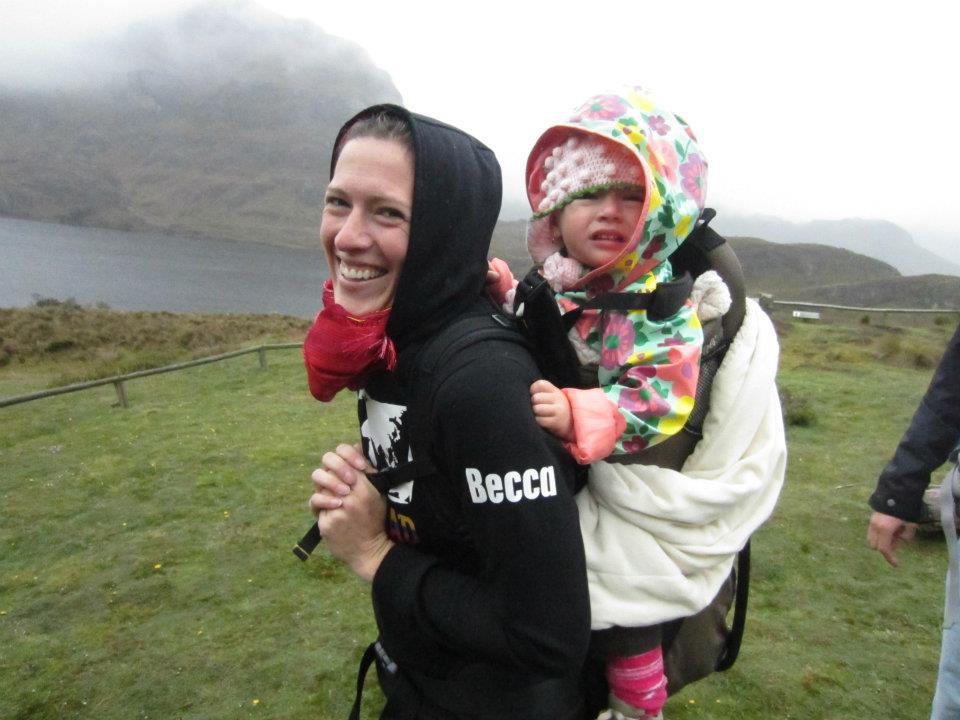 How would you describe your career path? In other words, how did you get from college to what you're doing today?
I have always had a passion for cultures and languages. When I was a little girl I used to spend time with the Spanish-speaking kids in the town where my grandmother lives. I had such a desires to learn Spanish and would ask them to teach me words and phrases. At one point I even ran off into the hills with one of my friends, scaring my mother to death. Little did she know it wouldn't be the last time I ran off with a Spanish-speaker (sorry, Mom!).
In middle school I began taking Spanish classes and continued all the way through university where I earned a Bachelor of Arts in Spanish Language (a big shout out here to Dr. Michele Shaul at Queens University of Charlotte for making my graduation possible).
I have traveled to every Central American country and all but a handful of South American countries, and have lived in both Ecuador and Argentina. After 13 years of coming and going from Latin America I can say I am completely fluent in Spanish and feel just as at home in that part of the world as I do here in the United States.
Travel has also been a big part of my professional development. I traveled internationally for the first time when I was 16 and haven't stopped since. My travels originally led me down the path of majoring not only in Spanish Language, but also obtaining a second major in International Studies with a focus on developing nations.
My original plan was to work in on-site non-profit management in developing countries. Then I did a service learning placement through the International Partnership for Service Learning in Guayaquil, Ecuador where I volunteered daily in a public health clinic in a suburb community. It helped me realize that as an outsider with very little cultural knowledge and understanding and no community connections or trust, I would not be able to make the impact I wanted to, and that development work would not be the right career path for me. It caused me to rethink that life path I had so diligently worked for and led me down a career path in international education.
My realization was that I had such a transformative life experience through a study abroad opportunity how amazing would it be to help facilitate these opportunities for other so that they could have similar life experiences!
About a year after my "aha moment" I finished my undergraduate studies and went to work in the travel industry while I figured out how to break into the field of study abroad. I opted to pursue a Master's in International Studies at the University of Sydney in Australia and packed up and moved across the world to study for another 14 months.
During my time there my partner at the time and I founded El Nomad Study Abroad Programs. We worked on the company part-time assisting students and faculty with short-term, full immersion experiences in Ecuador, while I studied full-time and volunteered part-time for the Ecuadorian Embassy in Sydney completing an evaluation of prospective importation markets for Ecuadorian products in Australia.
After graduating from the University of Sydney I moved back to the Seattle area and was offered a job at Central Washington University in Ellensburg as a Study Abroad Advisor and Faculty-Led Program Coordinator.
During the day I worked with faculty on the development and execution of short-term study abroad programs (including itinerary development, travel logistics coordination, budgets, curriculum integration, and program marketing), advised students interested in study abroad programs to Latin America, ran study abroad info sessions and visited classrooms, and assisted with the office's on campus marketing efforts. In the evening I continued to work on El Nomad.
In May of 2010 I moved to Ecuador to work full-time with El Nomad. Because it was a small company I was involved in every aspect of running the business. From budgeting to itinerary development, from international networking to host family selection, I did it all.
In March of 2015 I moved back to the United States and in July I was hired by Everett Community College for my current position.
What tips do you have for others who are interested in doing similar work?
Go abroad whenever you can. If you can't go abroad, interact with individuals from a variety of countries/regions/backgrounds/beliefs. Learn another language and use it!
Work for small and large companies/organizations alike. Small companies could allow you to be integrated into more aspects of the field, larger companies may allow you to specialize in one area. Say yes to as many learning experiences as you can (within reason, of course) and glean all that you can from your colleagues. We are all in this together and are happy to help when and where we can!
Network and do informational interviews. These strategies will help you figure out which job you want to apply for next, which job you will want 5 years from now, and may help you determine a professional trajectory.
At the same time allow yourself space for life changing opportunities that may alter your final career destination (this has happened to me on more than one occasion!).
Finally, when the time comes, give back. Remember those who gave their time, help, and kindness along the way, and pay it forward to those who are just getting started and want to be you "when they grow up".
Thanks for sharing your global career story, Rebecca, and for the fantastic tips!