#MyGlobalCareer: Astrid Vinje, Project Manager for a Global Health Non-profit Organization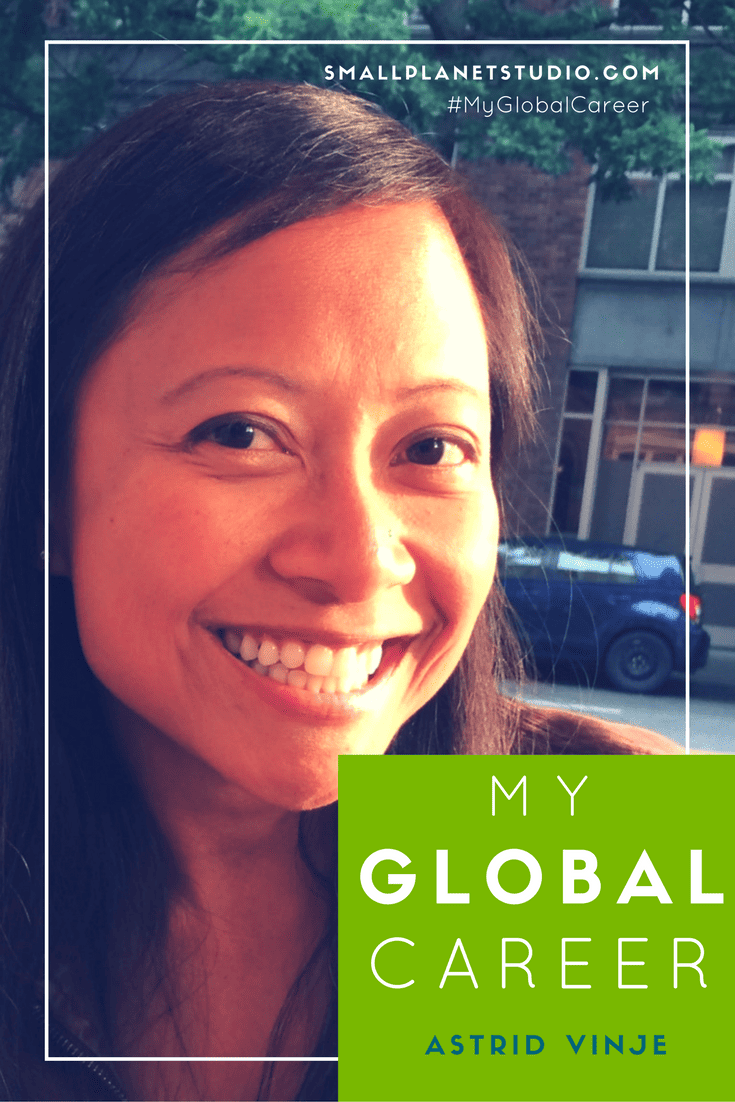 Astrid Vinje is the writer and owner of The Wandering Daughter, a blog focusing on approachable family travel. Astrid has traveled to more than 25 countries, and now travels with her husband and kids. Her work can also be found on Pink Pangea, BootsnAll, Wanderlust and Lipstick, and LeafCanoe.
Hi Astrid! Thanks for telling us about your global career. What do you currently do professionally?
I am a Project Administrator for a global health non-profit organization. We focus on improving health technologies and strengthening health programs around the world, and work in over 20 countries around the world.
What are some of your responsibilities, duties, and projects? 
As a Project Administrator, I am responsible for the administration and financial management of the projects I support.
I currently work on four projects: a global milk banking project in India, South Africa, and Vietnam; a newborn health project in Ghana; a nutrition and HIV project in Zambia; and a health video promotion project in India.
My day-to-day work involves keeping track of our project budgets and communicating daily with our global teams. I also support the organization in improving various operational systems and processes.
That sounds really interesting! What do you like most about your current position? What are some of the challenges?
One of the best things about my current position is knowing that what I am doing is having a positive impact in the world. The projects I support are literally helping to save babies' lives!
I also love being able to work with people from all sorts of different backgrounds and cultures. It helps me feel connected with the world. And occasionally, I am able to some of the countries where we do work, which is always a nice benefit to have.
Because we work in so many different countries, one of the challenges I have is maintaining communication with everyone in an efficient way. Decisions can sometimes take days, when you have to get input from people in multiple countries.
How would you describe your path to your current position? In other words, how did you get from college to what you're doing today?
When I was in my last year of college, I knew that if I wanted to have an international-focused career, I would need to have some kind of international work experience. So while my peers were applying for jobs, I decided to apply for the Peace Corps. I served for two years in the Peace Corps as a health volunteer, where I focused on promoting HIV prevention and community empowerment. After my service, I returned to the United States energized and ready to work for another globally-focused organization.
But reality hit me in the face. Two years of volunteer experience straight out of college did not qualify me to manage a large-scale international project. As I was looking for international jobs, I saw that many organizations require at least 3-5 years of experience AND a Master's degree. I decided that the best thing for my career would be to go to graduate school.
I ended up enrolling in a Master's program at The George Washington University in Washington, DC, focusing on International Development. It was a two year program, culminating in a two week consultancy project in Kosovo with a global development non-profit based in DC. While I was going to school, I also worked full-time as an assistant at a global health non-profit. It was tough work to balance the two (and I also got married and had a baby during those two years!), but in the grand scheme of my career, it was the best decision I ever made.
After I completed graduate school, my husband and I decided to move to Seattle to be closer to family, and I was able to get a position at my current place of employment. But it still took another four years for me to work my way up to my current position. I shifted around my organization, trying out different positions and supporting different teams, before landing my current position.
What tips do you have for others who are interested in doing similar work?
Getting into the world of International Development is all about having skills that organizations will value. My biggest advice to anyone wanting to get into the field is to move to Washington, DC. There are literally hundreds of international organization in DC, both large and small, and if you want to get your foot in the door at an international organization, DC is the place to be.
Thanks, Astrid, for sharing your #MyGlobalCareer story!