Ep 05: How Hannah Unpacked Her Re-entry Backpack After Studying and Interning Abroad
Click the play button above to listen to this episode now or subscribe to the Re-entry Roadmap podcast in Apple podcasts, Spotify or wherever you listen to podcasts!
Hey there, Forward Launchers!
Today, I'm talking with Hannah Sorila about her journey through processing re-entry and making meaning of her time abroad.
Hannah is a self-described enthusiast for intentional and purposeful international immersion and currently works as SIT Study Abroad's custom (study abroad) program coordinator.
Hannah's first re-entry experience came after she decided to study abroad during her junior year with SIT Study Abroad (the same organization that she now works with) while attending Providence College; she studied global and mental health in India, South Africa, Brazil, and Switzerland.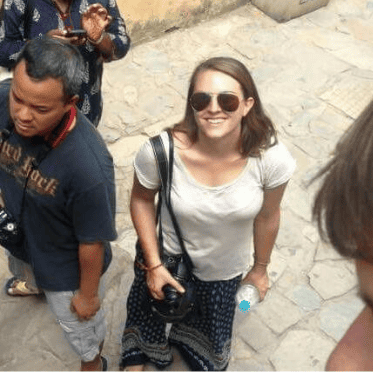 Her experiences abroad and during re-entry led her to the world of international education. Hannah worked in the study abroad office at Providence College and volunteered as a Global Ambassador on campus.
After graduating, she became a Content Marketing intern abroad for GoAbroad.com in the Philippines. Living abroad during this time proved to be a challenge, but it shaped who she is today and the direction of the work she does.
Though she is still connected to her global experience and past study abroad girl self, she has been able to connect to the kind of local roots that are possible through fully processing all of the feelings that arise in re-entry, like reverse culture shock and those post travel blues. This process for Hannah took time, but ultimately through unpacking her re-entry backpack she was able to find a place that feels like home.
In This Episode, We'll Talk About…
Hannah's biggest re-entry struggle
How being on a college campus can make re-entry difficult
How the pandemic is thematically similar to going abroad and returning home
How Hannah moved into the full identity of who she wanted to become, instead of being stuck in only being the study abroad girl
The importance of fully processing emotions and how that shapes your Forward Launch
Resources & Links
If you want to connect with Hannah Sorila, you can send her a request on LinkedIn with a note saying you found her through the Re-entry Roadmap podcast.
Get the Re-entry Roadmap Workbook here!
If You Enjoyed This Episode, You May Also Be Interested In: