Ep 04: Navigating Grief and Loss in Re-entry
Click the play button above to listen to this episode now or subscribe to the Re-entry Roadmap podcast in Apple podcasts, Spotify or wherever you listen to podcasts!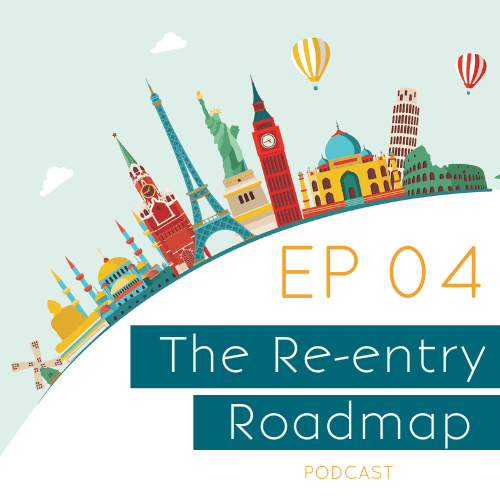 Welcome back, Forward Launchers!
Lately I've been thinking about how some of my biggest opportunities for growth were due to experiences I was unexpectedly thrust into.
Like a difficult break up I once experienced that ended up teaching me some of my biggest lessons about grief and loss.
For some of you, maybe it's being forced to return home early from your study abroad program, international internship, teaching position, Peace Corps site or other abroad experience due to the current devastating pandemic.
That's why today we're talking about how to navigate grief and loss in re-entry.
In This Episode, We'll Talk About…
7 observations and lessons a difficult break up taught me about navigating grief and loss
Strategies for navigating any grief you may feel about having to return early
How learning to navigate grief helped me later in life
Going home after living abroad can be hard. And emotional. And a lot to handle, especially if you're trying to process everything on your own. This is especially true if you were not able to say a proper goodbye before returning home early. Add a global pandemic on top of that, and you're probably lugging around a really heavy re-entry backpack filled with confusing and contradictory feelings.
Remember, those feelings won't last forever! Finding ways to sit with and process those post travel blues, instead of avoiding them, will help lead you find your way to the other side of reverse culture shock and the challenges inherent in any re-entry / repatriation experience.
The re-entry process is not one size fits all, so give yourself a little patience and a little grace. Life can and will look different post travel or living abroad, but that doesn't have to mean it will be always be a negative experience.
Now that you've found the Small Planet Studio community, you have access to people and tools (like the Re-entry Roadmap workbook) to support you in finding greater meaning, insight and ease in this challenging time, hold space for you as you process big feelings and those post travel blues, and to help you unpack your re-entry experience…when you are ready.
If You Enjoyed This Episode, You May Also Be Interested In: