Ep 01: The #1 Question I'm Asked About Re-entry
Click the play button above to listen to this episode now or subscribe to the Re-entry Roadmap podcast in Apple podcasts, Spotify or wherever you listen to podcasts!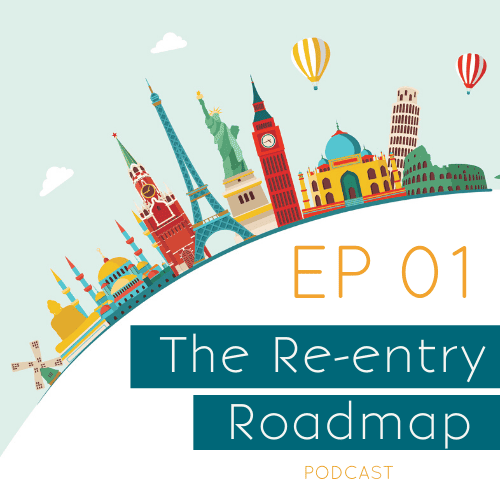 Hey, Forward Launchers!
Today I'm talking about the #1 question I'm asked about re-entry.
In our conversation today we're going beyond reverse culture shock and post-travel depression to talk about what re-entry is *really* all about.
Because re-entry isn't just about returning home after travel or living abroad.
It's about redefining what home is to you. And the transition from being your global self abroad, to being your global self anywhere.
Going home after living abroad doesn't have to mean slipping back into your old routine, getting stuck in a post-travel depression, or forgetting all of your international experiences. Rather, re-entry is an opportunity to decide how you want to keep moving forward!
Although re-entry can be challenging, with the right tools (hello, Re-entry Roadmap Workbook) and the right community, you can find more insight, meaning, and ease in your post travel transition. This podcast episode will help you get started on the right foot!
In This Episode, We'll Talk About:
What re-entry *really* is, and what it isn't
The many ways returnees avoid processing their re-entry transition
Common emotions and feelings sparked by going home after living abroad
The re-entry iceberg and how it affects your re-entry transition
Your re-entry backpack and the rocks inside that might be weighing you down
Your re-entry experience is uniquely your own, and sometimes that's exactly why it's challenging to navigate without any support or guidance. Once you are able to identify your feelings about coming home, and possibly staying home, you'll be able to process them healthily instead of avoiding them. This reflection and unpacking will help prepare you for your Forward Launch. And guess what? The Re-entry Roadmap was developed for this exact purpose.
Unpack your re-entry experience with the Re-entry Roadmap Workbook and see how much you have grown and transformed!
If you enjoyed this episode, you may also be interested in: