My first re-entry experience was at 17 years old, after spending my senior year of high school as an exchange student in Germany.
It was rocky to say the least!
I wasn't especially happy to be back home. I missed the life I'd worked so hard to build in Germany (in a brand new language!), I craved the daily adventure of living abroad, and I struggled to navigate the weird distance that appeared in what had been my closest relationships with family and friends at home.
But I muddled through the best I could until I could go abroad again (and again and again and again).
As a highly reflective person, I automatically thought a lot about what I'd learned and how living abroad had changed me.
But I had no tools for doing anything productive with all that reflection, and it just sat at the not very helpful level of vague awareness for several years.
And the complex and conflicting emotions that I felt but couldn't articulate? I had no idea how to process all of that and probably took it out on my loved ones more than I intended!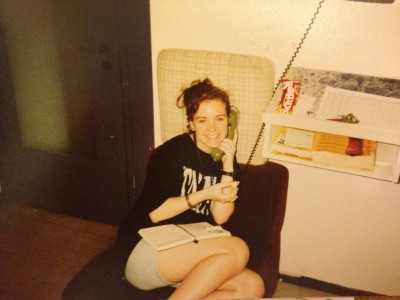 During my first re-entry I quickly rebelled against the pressure I felt to re-adjust to "home." Re-adjusting felt like going backwards.
It felt like my abroad experiences and big, important parts of my identity were being erased.
I wasn't exactly sure what I wanted my life to be like but I knew I didn't want that!
Fast forward nearly two decades after that first re-entry. I'd created the tools I wish I'd had during that first re-entry.
By that time I'd experienced re-entry several times, in several different ways, at different ages, solo and with other people, and returning to various locations.
I also had a deep understanding of the research on transitions, reverse culture shock, re-entry/repatriation, and meaningful reflection, as well as years of hands-on experience helping globetrotters before, during, and after living abroad.
I became fascinated by the untapped opportunity of re-entry and how to turn re-entry/repatriation into an overwhelmingly positive, growth-focused experience that returnees would actually want to embrace and significantly benefit from.
The tools I created started out just for me as a way to finally reflect on and learn from my years abroad and subsequent re-entries. When I shared my story and creative approach with friends and colleagues, I was encouraged to share them more widely – and SPS was born!
My Wish For You
I frequently hear globetrotters – whether expats, study abroad students, international teachers or long-term travelers – lament that re-entry just sucks and there's nothing you can do except commiserate with others and muddle though until you can go abroad again.
That's exactly what I always thought….but now I know it's not true! There are things you can do to make re-entry a positive and growth-oriented experience you'll actually benefit from. I'd love to help you make that happen!
That's why I started Small Planet Studio, created the Re-entry Roadmap creative workbook, and lead group programs for globetrotters in re-entry.
A great place to start is with my popular Re-entry Roadmap creative workbook (so far is has 16 5-star reviews on Amazon) or our Facebook group! And…coming soon: The Global Heart Collective!
Get 3 Reflection Guides!
Get immediate access to 3 of our reflection and action guides for global hearts (free!):



New Year. Global You!
The Forward Launch Planner & Journal
Holiday Reflection Guide
You'll also be the very first to get the details about the Global Heart Collective!