IS THIS YOU? 
You loved, loved, LOVED living abroad.
But now that you've returned "home"?
Uuuugggghhhhh.
You feel restless. Bored. Like you're going backwards. Settling for second best. And you miss your life and friends abroad so very much.
You long to feel connected, confident, and global. Like you're moving forward with intention and purpose towards your next amazing life adventure (which just might include another stint abroad).
Let me assure you of two things.
First, you're in good company here! I know exactly what you're going through – as does the entire SPS community. And we're all here for you.
Second, what you're feeling is so common that there's a word for it: re-entry (you might also know it as reverse culture shock or repatriation).
If you've…
returned from living, working, volunteering, teaching, studying or traveling abroad,
feel fundamentally changed by your experiences,
and want to reflect on who you are now and then move forward with intention and confidence
…you're in the right place!
For most globetrotters, re-entry is THE most challenging part of their abroad journey. Even worse? It's often a complete surprise! I mean, who expects to feel more lost going home than they ever were abroad?
Wouldn't it be great to have a roadmap for re-entry?
One that's like having a good friend take you by the hand, lead you through a proven process, asking you all the right questions to get you thinking, reflecting, appreciating, and looking ahead – all with a positive attitude and a sense of humor.
One that guides you in deeply reflecting on what you learned and experienced abroad, and who you are and what you want your life to be like now. One that helps you articulate what living a global life means to you at this point in your life. One that makes all the pieces of your life fit together beautifully – no settling required.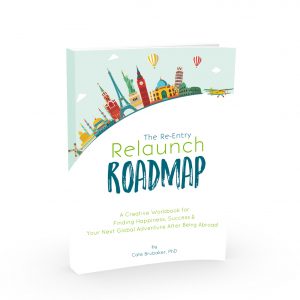 A roadmap is exactly what I wish I'd had after living abroad, so I created one! You can read more about the Re-entry Roadmap (and where to get it) here. I also lead Re-entry Roadmap Mastermind groups for returnees who want to connect and work through the Roadmap with other globetrotters.
Wondering Where to Begin?
Start by joining our private Facebook group! And then register for my free Re-thinking Re-entry: 5 Tips for Returnees webinar.
(I've also got webinars for expat coaches and study abroad professionals.)
Meet Cate, Your Re-entry Mentor
Praise
LOVE this book. Very down to earth with a sense of humor.
– Amazon customer
…………………
The Re-entry Roadmap is an invaluable tool for navigating what's next.
– Stormy Sweitzer
…………………
Your strategy is really brilliant.
-Katie Benedetto Jones
…………………
It's like sitting with a good friend and ranting, laughing, and brainstorming your way into a future that delights you.
– Amazon customer
…………………
If you are currently at loose ends after time abroad, grab this book!
– Amazon customer
…………………
The activities are fun, reflective, relevant and incredibly useful.
– Amazon customer
Hello and welcome! I'm glad you're here.
I started SPS because I was frustrated that the challenging (and for some people, devastating) experience of returning "home" after living abroad is mostly left up to the study abroad student, the expat returnee, the volunteer or the global nomad to muddle through alone. [Read my re-entry story here.]
Sure, we all find a way to cope, usually by relying on the "3 C's" – crying, commiserating, and contemplating our escape. 😉
But honestly? The coping strategies that help us survive going home (and indeed might even make us happy in the short-term) aren't satisfying or truly helpful in the long run.
I knew there  had to be a better way.
Drawing on my 20 years experience in international education, my PhD dissertation research, and working with hundreds of globetrotters in global transition – in addition to deeply reflecting on my own re-entry experiences – I created the Re-entry Roadmap to help you move forward with confidence, connection, and intention towards an even better life than the one you just lived abroad.
I'm not saying re-entry will always be easy, but with the Re-entry Roadmap and the SPS community by your side, you can turn re-entry into a positive, growth-focused experience that enhances your life.
IF YOU'RE STILL ABROAD, the Re-entry Roadmap will help you take a proactive, intentional approach to the return part of your global journey. Your future self will thank you!
IF YOU'VE JUST RETURNED, the Re-entry Roadmap will help you navigate the transition you're smack in the middle of.
IF YOU'VE BEEN HOME A WHILE, the Re-entry Roadmap will help you delve deeper into self-reflection and growth. Once you've been abroad there's always more to learn about your yourself, how being abroad has changed you, and what you want your global life to look like going forward!
The Re-entry Roadmap has already worked for hundreds of globetrotters. It can work for you, too! Click here to get your copy.
Get 30% off the Re-entry Roadmap!
Enter your details and I'll send you a coupon code to get 30% off the Re-entry Roadmap creative workbook (regular price is $17)!
Connections