RELAUNCH! All Access Pass
---
Upgrade to an All Access Pass!
***Scroll down to see everything you get!***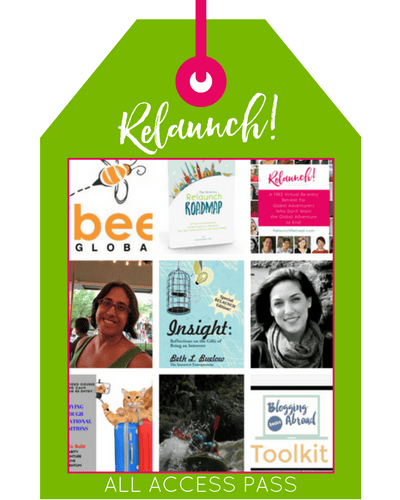 ---
Take a look at everything you get (WOW)!
---
#1
All 15 RELAUNCH! Video Sessions ($500 value)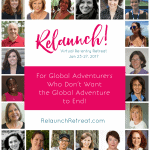 Get 24/7 access to (re)watch all of the 2017 RELAUNCH! sessions when it's most convenient for you! [click here to see the event schedule and meet the speakers]
#2 Exclusive 27-page RELAUNCH! Retreat Handout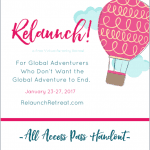 For All Access Pass holders only! Jot down key insights, list your action steps, reflect on self-discovery questions – and more. This handout will help you reflect AND take action!
#3
The Re-entry Relaunch Roadmap Workbook ($22 value)
This 134-page hard copy workbook from Small Planet Studio will sent to your front door! Filled with fresh insights, creative activities, and actionable advice, the Relaunch Roadmap will help you process your complex emotions, articulate what you learned and experienced abroad, reflect on who you are now, and identity your Global Life Ingredients.
****Note: Price includes free shipping within the continental US. If you list your address as outside the US, an $8 shipping supplement will be automatically added.
#4
Blogging Abroad Basic Toolkit ($6.75 value)
This 30-page guide from  from BloggingAbroad.org is the go-to e-guide for culture bloggers! Whether you're blogging before, during or after being abroad, you'll learn how to make a difference with your blog, take the most visited and essential pages on your site to the next level, and hone your blog post skills.
#5
1-hour Transformative Travel Coaching Session with Deidra Razzaque ($80 value)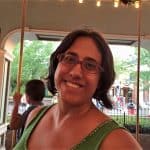 Your session can take place via phone, Skype, or in-person and can encompass any aspects of transformative travel, including…envisioning your trip, exploring your reasons for travel, brainstorming and planning future travels, examining the impact travel has on you or on others, managing re-entry after a journey, and much more.
#6
Riding the Rapids of Re-entry Live & Interactive 4-Part Webinar Course from Watts Your Pathway ($90 value)
You'll explore… (1) what transitions look like, how you experience endings, and how to tell your story, (2) practical tools to help with overwhelm, chaos, and settling back in, (3) how to look forwards towards your new beginning, and (4) how to manage re-entry stress, spiritual changes, and self-care. 
#7
Insight: Reflections on the Gifts of Being an Introvert Special RELAUNCH! Edition from the Introvert Entrepreneur ($9.99 value)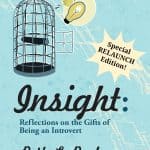 Beth Buelow weaves personal stories with wit and wisdom to explore the unique energy that comes along with introversion in this 132 page book (PDF).
#8
Thriving Through International Transitions: How to Build Clarity  Adventure, Love and Momentum from Rock Your Re-entry ($197 value)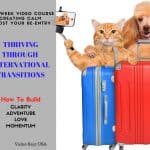 A brand new, self-paced 4-week video course on creating calm amidst your re-entry. 
#9
C4 Cultural Career Coaching Circle Tip Sheet for the International Education Job Seeker from Melibee Global ($150 value)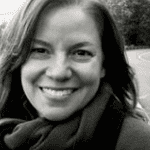 Melibee Global's C4 Cultural Career Coaching Circle was founded by International Education Coach, Missy Gluckmann. This tip sheet will give you some of their top tips on 4 main areas of the int'l ed job search: Resumes, Cover Letters, Interviewing Tips, and How to Negotiate your Salary –all specific to cross cultural careers and international education. Plus – see their BONUS coupon code offer below!
#10
Resume Critique with Pouneh Eftekhari of Longing To Travel ($75 value)
With your free resume critique, Pouneh will show you how to clearly incorporate your brand on your resume as well as how to improve the overall look and feel of it. After receiving your personalized feedback, you'll have concrete action items on how to improve your resume so that it tells a clear career narrative which leverages your incredible global adventures!
---
If you were to buy each of these items separately,
you'd pay well over $1000.
But if you grab a RELAUNCH! All Access Pass now,
you'll get everything for only $127.
You also get these awesome free bonuses!
Bonus #1 The Re-entry Relaunch Journal/Planner (PDF) from Small Planet Studio
Bonus #2 A year of #GlobalYou365 Journaling Prompts from Small Planet Studio
Bonus #3 Mindfulness Matters ebook by Mattie Clark (PDF)
Bonus #4 $25 OFF Any DIY Expat Career Planning Package from Longing To Travel
Bonus #6 $25 of the next C4 Cohort & 20% off Resume Writing Tips for Int'l Ed Cover Letter Writing Tips for Int'l Ed Interview Tips for International Education How to Negotiate Your Salary
Bonus #6 $50 off the Global Pro Institute from Inside Study Abroad
Bonus #7 How to Find Your Next Global Adventure At Home or Abroad ebook (PDF) by Cate Brubaker & Pouneh Eftekhari
Why are We Offering the All Access Pass at nearly 90% off? 
Because we – the RELAUNCH! speakers – have all been in your re-entry shoes.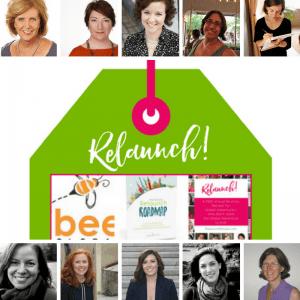 We know what it's like to ride the ups and downs of the re-entry rollercoaster. We've contributed 10 of our best products and services and exclusive bonuses at this very reduced one-time-only rate because we passionately believe in supporting our fellow globetrotters in making re-entry a positive, growing experience! Whether you've been in re-entry for 5 hours or 5 years, we want to help you to make the most of the unique re-entry experience. Click the button below to get your All Access Pass while it's 90% off! I want an All Access Pass!