Cute Pocket Journal Set
Document your #MyGlobalLife with this cute set of three pocket journals. They make a great gift!
Buy It
---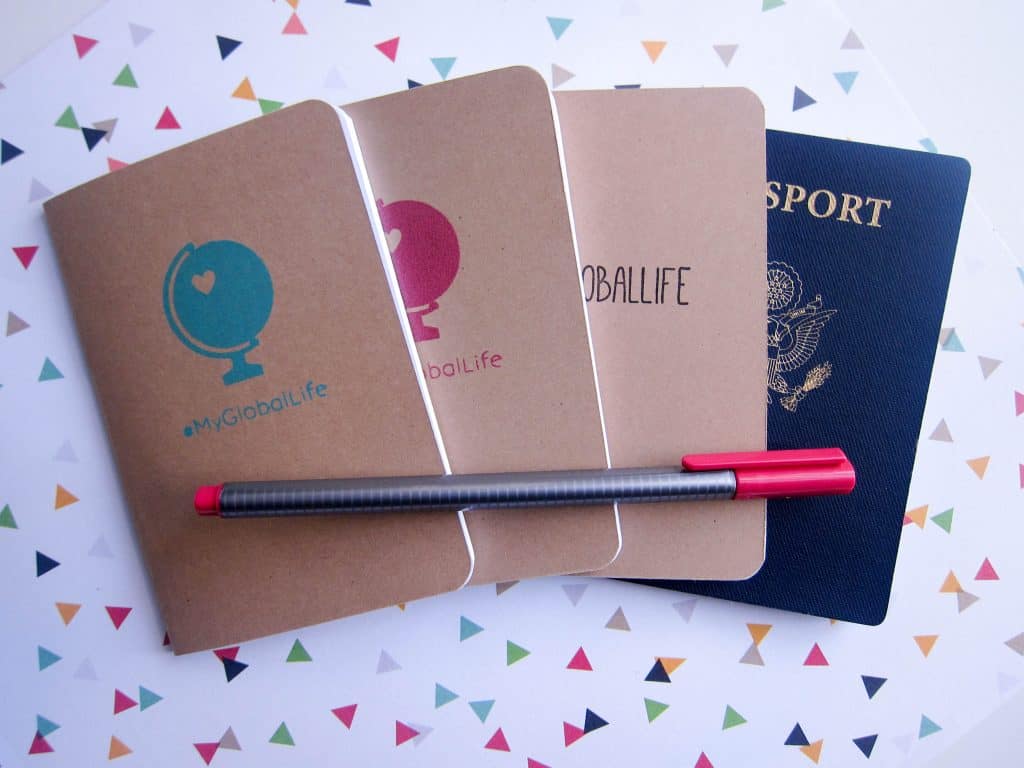 Jot down all of your re-enry relaunch and global life plans, dreams, lists, and ideas in these cute pocket journals! Perfect as a travel journal for your next trip. Or stash one in your day bag to use as you live your awesome global life at home. They also make great gifts and stocking stuffers!
I bought my first journal as a teen, the day after I found out I was moving abroad. I've been journaling ever since. A few years ago, I got tired of lugging around heavy, bulky journals when I traveled. And when I was at home I often wished I had something in my purse to jot down my ideas. Pocket journals to the rescue! I started making my own journals and am excited to share them with you.
Set of 3 Pocket Journals
This set includes three passport-sized journals (see photos above). Each pocket journal has 20 pages (10 sheets) of smooth, bright white paper. The blank pages are great for writing or sketching.
Each journal is staple bound. Please note that these notebooks are hand folded, cut, stapled, and stamped, so there may be slight variations from piece to piece.
Set of 3 Journals*
5″ x 3.5″ in size (the size of a US passport)
3 designs/colors in each set
80# kraft cover stock
20 blank, bright white interior pages (10 sheets)
staple bound
handmade to order with love
*pen and passport not included 🙂
Buy It
BONUS #1: FREE shipping within the continental US!
BONUS #2: Access to exclusive journaling tips and 365 writing prompts!
Price: $13.00 (includes tax and shipping within the continental US)
Your order will ship within 1-3 days. Free shipping within the continental US is included. If you'd like to order in bulk or have your order shipped outside the US, contact me for a price quote.
Every aspect of the notebook, from the design to the packaging is proudly done by hand in my studio. If you have questions, don't hesitate to get in touch!