Is this You?
---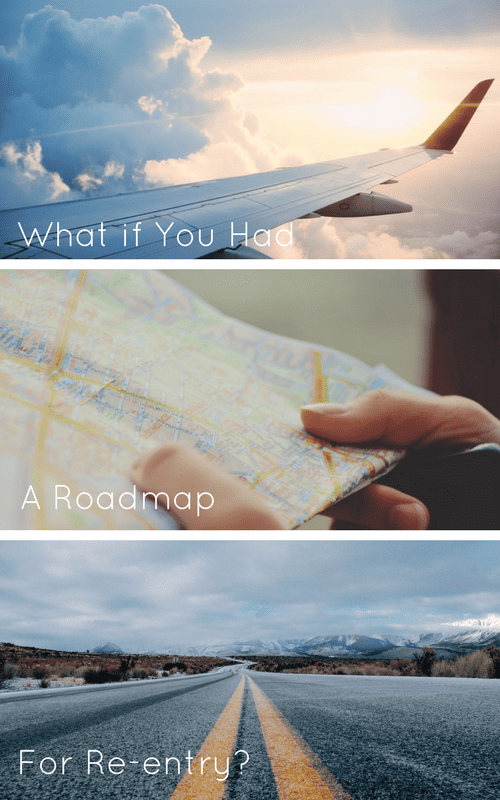 You've lived abroad and now you're back "home."
You've changed so much…but nobody sees the you that you've become.
You know how beneficial it is to reflect in re-entry BUT you wish you had…
A roadmap to guide you step-by-step in deeply reflecting on how your experiences abroad have impacted you.

A safe, non-judgemental place to connect and share with peers who get you and the ups and downs of reverse culture shock.
A re-entry mentor who will help you turn re-entry into a positive, growing experience that you actually benefit from.
You're in luck!
There IS a step-by-step roadmap for re-entry…
You CAN have a re-entry mentor who will guide you in intentional, meaningful, and beneficial reflection…
And you CAN connect with global peers who get you – it's all part of the Re-entry Roadmap Mastermind.
The next Cohort starts on Oct. 2!
Tell Me More!
The Re-entry Roadmap Mastermind is a 5-week small group program for returnees in any stage of re-entry – from just about to return to recently returned to been back quite a while.
Together, we work through my popular Re-Entry Roadmap creative workbook, which is chock full of thought-provoking yet fun activities and prompts that culminate in creating your own custom re-entry roadmap.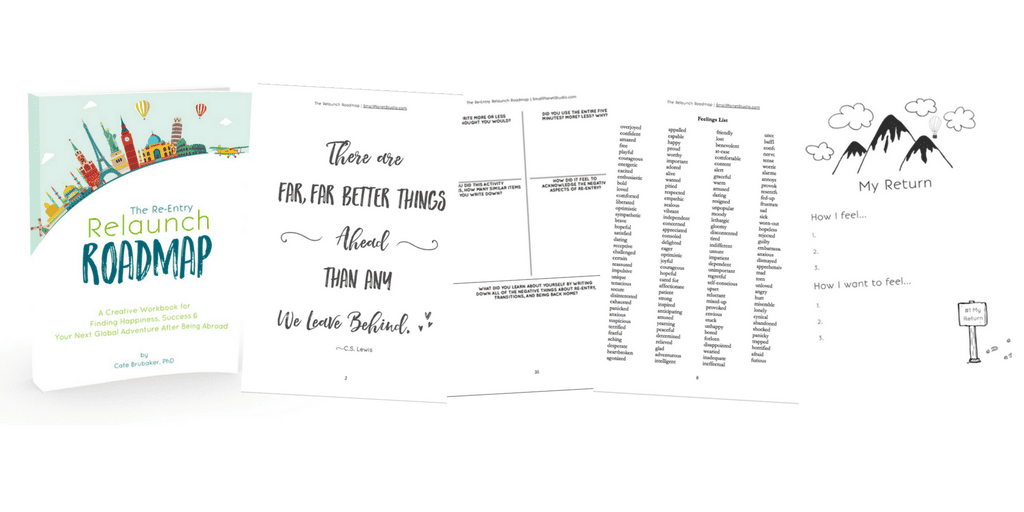 As your re-entry mentor, I'll help you…
Reflect on and articulate what you experienced and learned abroad (super helpful in job interviews).
Process the grief, loss, and complex emotions that surface after returning "home" (re-entry often hits the hardest weeks, months or even years after the initial return).
Reflect on how you've changed, and who you are and what you want your life to be like now.
Create actionable coping strategies for navigating relationships, reverse culture shock, and the "downs" of re-entry.
Turn re-entry into something that you grow and benefit from.
Incorporate global adventure into your everyday life, no matter where in the world you are.
Clarify what (and who) is truly important to you, and then using that information as a compass for confidently making decisions about your future.
Connect with global peers.
Figure out what you want to do next and how to make it happen with intention and confidence!

"Cate asked the questions
I needed to be asked.
But I didn't know that I needed to be asked those questions until she asked them!"
-Anita, Cohort #1

Is the Mastermind a "Live" Virtual Program?
Our homebase will be our private Facebook group, which is where I'll post the day's workbook activity and helpful thoughts, tips, and resources. I'm in the Facebook group every day to help you reflect and connect. Most masterminders like to check in each day so they can respond to the day's reflection thread and connect with other cohort members. Others prefer to check in a couple times a week. While there's a lot of opportunity for live connection, how frequently you participate is up to you!
We'll also meet for two live video Group Coaching Sessions. I'll mentor you live in two small group video sessions (scheduled around your schedule). These sessions are an opportunity to share your re-entry ups and downs, get and give support, and connect with peers who get what you're going through.
Participants have said that these live group coaching sessions are a safe place for processing re-entry and talking about things they can't talk with anyone else about.
Is the Re-entry Roadmap Mastermind for Me?
Have you lived, worked, taught, interned, studied or volunteered abroad?
Do you feel utterly changed by your experiences abroad?
Do you want a leg up by being able to clearly articulate the unique skills, strengths, and perspectives you gained while abroad to employers, friends, and family?
Are you conflicted about whether to remain in your home country or move abroad again?
Do you crave a global life, no matter where in the world you are?
Are you willing to prioritize reflection and action over complaining and commiserating?
Do you want to connect with others in re-entry and receive coaching, mentoring, and support from an experienced professional for an affordable price?
If you answered yes to any of the above, the Re-entry Roadmap Mastermind is for you! This program is especially helpful for:
Expats who have lived and worked abroad
Accompanying partners
Returned Peace Corps and other international volunteers
Fulbright, JET and other international teachers
Students who've spent a year studying abroad
Digital nomads
Study abroad professionals and faculty leaders who work with study abroad students

"The power of the Mastermind is in the structure of reflection
and the community we created."
– Mattie, Cohort #1
How Will I Benefit from the Mastermind?
You'll bring who you are on the inside to the outside so everyone will finally see who you are now (including yourself). You'll gain valuable insight, peace, and confidence that will help you navigate re-entry and embrace what's next. You'll feel seen, heard, valued, and validated. You'll use the tools you gain in the Mastermind again and again as you move through this and future re-entries.
What you won't get? Fluff. Or tired, generic re-entry strategies that you've heard before.
I get to know each and every Mastermind participant (that's why I keep the groups small). I'll help you apply the tools and resources in the workbook and Mastermind to your unique re-entry. I'm in the Facebook group every day to support and inspire you.
From Previous Participants
"[The Mastermind] helped me to process my feelings about being home and being abroad in a creative way that was meaningful but still a lot of fun. It allowed me decide on my next move (going to grad school!)."
-Alethea, Cohort #2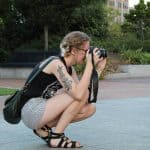 ……
"Having a specific and safe space to process feelings, thoughts and emotions made sure that I did not repress or suppress what was going on for a most successful transition. It helped me leverage my experience in ways I wouldn't have considered without it."
– Mattie, Cohort #1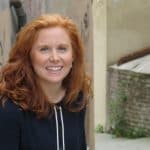 ……
"Reflecting on re-entry, assumptions, goals, values really helped me put everything into perspective. Discussing the remainder of my inner resistance to repatriation with you and my peers in our little group was enlightening, and meeting like-minded people online made me feel less alone in this difficult phase."
– Sibylla, Cohort #3
……
"[The Mastermind] kept me accountable – that really helped me prioritize rethinking my relaunch. I made new contacts that I can always reach out to when I have questions and I enjoyed the camaraderie. Cate opened up my eyes to so many possibilities and really empowered me to take charge of my relaunch."
-Tara, Cohort #2
……
"I cannot give enough credit to Dr. Cate and the Relaunch Mastermind. It was amazing and completely helpful. I owe credit to Dr. Cate and all my group for the progress that I've made in redefining myself and finding a way to walk forward to the next great thing."
– Anita, Cohort #1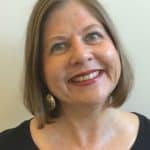 The Mastermind isn't for everyone. If, for example, you don't have a few hours a week to dedicate to the program, you won't benefit from it. Or, if you're not someone who enjoys personal reflection, this isn't for you.
Mastermind FAQ
Q1. Is this only for people who have just returned from abroad?
No! I've had participants at all stages of re-entry, from just about to go home to just returned to those who've been back for several years. There's no wrong time to process your emotions and identity after living abroad, so no matter where you are in your re-entry journey, you'll benefit from the Re-entry Roadmap Mastermind.
Q2. I'm not returning to the US, as a different country is my "home." Can I still participate? Of course!
Q3. Is the Mastermind only for women?
Nope, everyone is welcome!
Q4. Is the Mastermind only for returnees who are really suffering in re-entry?
The Mastermind is geared towards returnees who are ready to intentionally reflect on their emotions, identity, and their future and then use what they've learned to chart a course for laughing themselves forward into an even better life than the one they lived abroad.
Some returnees arrive at "ready to intentionally reflect" because they're tired of suffering, while others wouldn't say they're having a particularly terrible time in re-entry but are excited by the benefits of intentional reflection.
Q5. Do I need to buy the Re-entry Roadmap workbook to participate in the Mastermind? 
Yes. This 124-page (hardcopy!) workbook is chock full of thought-provoking yet fun activities and prompts that culminate in creating your own custom re-entry roadmap. If you don't already have a copy of the Re-Entry Roadmap workbook, you can get your copy using the 50% off discount code you'll receive upon registering.
Bonus!
If you register for the Re-entry Roadmap Mastermind by Friday, October 6, you'll get exclusive access to the 5 most popular video sessions from the RELAUNCH! virtual summit that I hosted in January:
1. The 6 Most Important Things to Do When You Arrive Back Home
2. The Best Mindset to Cultivate for a Smoother Re-entry
3. Career Strategies for the Re-entry Relauncher
4. How to Get Your Foot the Door of the Intercultural Field
5. Passion isn't Enough: Getting into the International Ed Field
Soon after you register, you'll get a link to start watching these 5 videos!
We Start on Monday, October 9, 2017