The first time I came home from abroad I was 17, and had just finished a year as an exchange student in Germany.
I remember stepping off the plane and walking into my hometown's tiny airport where my friends and family were waiting to take me "home." I was so proud of all I'd done and who I'd become during my year abroad.
But I was also really, really scared.
What will my life be like now?
If I talk about Germany, will it sound like I'm bragging?
Will I ever go abroad again?
Despite my fears, the first few weeks were great. I ate all of the foods I'd missed, I snuggled with my dog, and grinned from ear to ear as my friends and family happily looked at my scrapbook.
Two weeks in, I thought I was winning
at re-entry.
I was under the impression that if I could survive the first few weeks back at home, I was good to go.
What I didn't realize is that I'd only experienced one small part of re-entry. Instead of being nearly over it, re-entry was just beginning.
After returning home, all I could think about was going abroad again. In college I majored in German so I could spend a year studying in Stuttgart, and then I became an English teacher after graduation so I could spend another year abroad.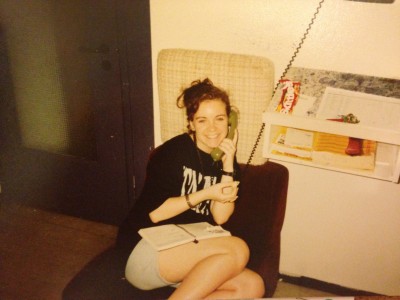 I felt the most alive out exploring the world and found that grad school gave me the perfect excuse to continue living and traveling abroad. I spent a few more years in Germany and traveled around Europe, the US, Central and South America, and Australia.
It's probably no surprise that I wrote my PhD dissertation on study abroad, and that most of my career has been focused on helping global adventurers thrive before, during, and after they go abroad.
Even though I was thrilled with all of the time I spent abroad, and the way my international education career was shaping up, something always felt….off.
It took me years – and a lot of pain and searching – to figure it out.
I'd never resolved re-entry.
Sure, during my first re-entry I spent a lot of time thinking about how I'd changed as a result of living abroad but for the most part, I had no idea how to process my complex and conflicting emotions, navigate relationship issues or deal with any of the other myriad challenges that arose after I returned "home." So, I brushed my feelings aside as much as possible and just got on with life.
Years later I realized that the deep effects of this unresolved re-entry were so subtle that I couldn't ever put my finger on anything specific. But it was always there influencing my relationships, career decisions, and general level of happiness.
My primary re-entry coping strategy was to go abroad again. This strategy worked for many years — and going abroad so often actually made me a stronger person. But then I got married, my parents started getting older, I finished grad school, I moved…basically, my life started changing and I could no longer simply up and leave when I felt re-entry closing in.
At one point in my late 30s, I felt stuck, lost, and just generally unhappy. Even though I had a loving and supportive husband, a great international education job, and liked where I lived, I just couldn't shake a feeling of deep restlessness. I felt like such a failure; I wasn't living abroad, nor was I happy in my home country.
I felt as though I were carrying a backpack full of stones that had suddenly become too heavy to carry.
I began asking myself some tough questions:
Who am I if I'm not living abroad? 
What does "global" mean to me at this point in my life? 
What's most important to me right now? 
Who am I and what do I want?
What is it about traveling and living abroad that makes me feel so alive?
If I move abroad again, what do I want the experience to be like
I also slowly worked through the lingering grief, guilt, and loss inherent in living abroad and choosing a different life path from important people in my life, and other personal issues.
After deeply reflecting on what I learned and experienced abroad, who I am now, and what I want my life to be like going forward, I was able to make peace with re-entry.
Then I intentionally created a thriving global life that incorporates the things that are most important to me at this point in my life, no matter where I in the world I am. I call those things my Global Life Ingredients and they're the people, ideas, connections, etc, that make my life meaningful, satisfying, and "global."
Oh how I wish I'd learned all of this sooner!
My Wish For You
I frequently hear globetrotters – whether expats, study abroad students, international teachers or long-term travelers – lament that re-entry just sucks and there's nothing you can do except commiserate with others and muddle though until you can go abroad again.
That's exactly what I always thought….but now I know it's not true! There are things you can do to make re-entry a positive and growth-oriented experience.
That's why I started Small Planet Studio, created the Re-entry Relaunch Roadmap creative workbook, and lead Mastermind groups for globetrotters in re-entry.
Whether you're repatriating after several years abroad or returning "home" after studying, volunteering or teaching abroad, my wish for you is that you make the most of your re-entry and create a "relaunch" that you're actually excited about! That you use re-entry to intentionally create a global life that you love – on your terms – no matter where in the world you are!
A great place to start is with my popular Re-entry Relaunch Roadmap creative workbook (so far is has 14 5-star reviews on Amazon). If you sign up below you'll get 30% off the workbook! If you'd like to connect with other globetrotters in re-entry, join a Re-entry Roadmap Mastermind, start a Re-enry Roadmap Book Club.
Re-entry is NOT the end. It's the beginning of your next adventure!
Get 30% off the Re-entry Roadmap!
Enter your details and I'll send you a coupon code to get 30% off the Re-entry Roadmap creative workbook (regular price is $17)!