Where global adventurers thrive in re-entry

Small Planet Studio is a personal and professional development company that provides services for global adventurers who have been changed by living and traveling abroad — and don't want to readjust to the status quo of the home they left behind.
Our goal is to help global adventurers create global lives so they can flourish at home and abroad. The key to that is understanding how to find your global life ingredients and use them to create a meaningful, satisfying, and sustainable global life that fits you as perfectly as your favorite travel shoes.
Our professional services are designed for global adventurers in all stages of re-entry. Information and inspiration are also provided through the blog, podcast, and on Instagram. 

You're in the right place if you're…
Ready to fully understand and own re-entry so it works for you, not against you.
Someone who is welcoming a global adventurer home (friend, family member, program provider) and wants to understand and support them more effectively.
Wondering if you can travel and build a successful career and nurture important relationships without giving up who you are or settling.
Committed to developing your global life in a sustainable way, one that honors your experiences, knowledge, and passion.
Someone who appreciates humor and a craft project or two.
Looking for an inspiring, engaging, and informative podcast guest or webinar for your abroad program.
Ready to define and create a global life on your own terms.
Curious about how we can partner together to reach your global life goals? Sign up for a complementary session in my office hours . I look forward to connecting!
Meet Cate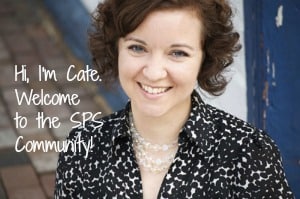 Re-entry after being abroad isn't about readjusting to being "home." It's about relaunching yourself into a global life you love at home and abroad.
Hi, I'm Cate, Founder and Chief Re-Entry Relauncher at SPS. As a former expat, current part-time nomad, and always passionate mentor, I'm here to help you say "I love re-entry!" (Read my re-entry story here.)
I started SPS after a challenging time in my life when I realized just how significantly unresolved re-entry issues were impacting my career, relationships, and general happiness.
I was also frustrated that the challenging (and for some people, devastating) experience of going home after being abroad is mostly left up to the study abroad student, the expat returnee, the volunteer or the global nomad to muddle though alone.
Sure, we all find a way to cope. But honestly? The coping strategies that help us survive going home (andindeed might even make us happy in the short-term) don't help us create a truly satisfying global life in the long run.
The vast majority of re-entry resources focus on commiserating or how to justify your time abroad to a future employer. Helpful, yes, but they don't address the root of our restlessness, boredom, and unhappiness. I want to change that by changing the way we talk about re-entry and reverse culture shock (step 1: let's stop referring to re-entry as an illness).
Drawing on my 20 years experience working in international education, my PhD dissertation research, and reading lots of personal development books and blogs – in addition to my own many re-entry experiences – I've figured out how to make re-entry a positive experience.
I never thought I'd say this but I actually look forward to re-entry! I want that for you, too.
10 Things About Me
I currently make my home with my husband in North Carolina, but as a part-time nomad I frequently workation around the world (yes, it's awesome).
I moved to Germany at 16 and lived there for about 4 years in my teens and 20s.
A few months before I graduated from college I woke up one morning freaked out about my future…12 hours later I'd landed a job teaching English abroad.
I've traveled and worked in 35 countries on four contents.
I'll always be supremely grateful to the high school exchange program that funded my first year in Germany and gave me my first re-entry experience. I'm a huge supporter of youth exchange programs.
In addition to SPS, I teach an intercultural education service-learning class at the University of North Carolina, Chapel Hill and consult for international schools and organizations around the world.
I'm an ambivert (who leans introvert) and an INFP. I just want everyone to get along.
I used to dance the Highland Fling.
The first place I lived in the US outside of my hometown was Seattle. I loved it.
I love dessert. I just want to travel the world and eat dessert.
Cheers,
Cate
smallplanetstudio@gmail.com
Facebook | Twitter | Pinterest | LinkedIn | Instagram
Meet Our Associate Re-Entry Relauncher
Sarah Smith joins us having recently returned to the U.S. after living in Ireland. She has studied, traveled and worked in both Europe and Asia, and is looking forward to pursuing a global career. She has a passion for intercultural education and ethical international volunteering; particularly as it relates to college students. Sarah developed wanderlust in college and hopes to mentor others as they engage in their own global adventures!
Meet Our Community Partners
Read more about our Community Partners here.